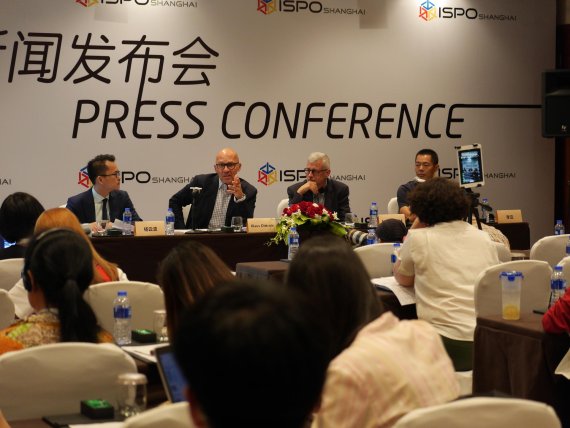 After the great success of ISPO Beijing, next on the agenda is the second multi-segment sports trade fair in Asia on July 6-8: ISPO Shanghai. With a focus on summer sports, the second annual trade fair is set to even exceed the debut's success.
China is the most heavily populated country on Earth, and a more and more affluent middle class is forming among the almost 1.4 billion people in the Middle Kingdom. However, the economic success also has its drawbacks, as at the same time stress is climbing in professional life, diets gets more and more unhealthy, and physical activity falls to the wayside.
ISPO Shanghai: 32 percent more exhibitors 
The numbers by the World Health Organization (WHO), and China's government has recognized the signals. With massive investments, the country is attempting to motivate its citizens to take part in more sports: that is the great opportunity for exhibitors of the multi-segment sports trade fair, ISPO Shanghai.
"Today, China is already the market with the highest potential for the overall sports industry, with a great future. In the next 20 years, China will evolve into the largest sports and fitness market in the world. Sporting goods manufacturers and brands that want to keep it rolling as global players and do successful business must take action here and now and invest massively," says Klaus Dittrich, Chairman of the Board of Messe München, at the opening press conference for ISPO Shanghai 2016.
After its successful debut in 2015, ISPO SHANGHAI is listing a distinct increase in exhibitors and brands for the following year. From July 6-8, exactly 470 exhibitors and 618 brands from 24 countries will be represented on an area of 33,000 square meters in the Shanghai National Exhibition Center. That signifies a growth of 32 percent in exhibitors and an increase of 30 percent in brands.
Read more here: Why China must rethink production and become more sustainable.
China: Middle class has travel fever
In contrast to ISPO BEIJING with its focus on winter sports, the summer sports will be covered in Shanghai. The multi-segment sports trade fair will present innovations from the field of action, sports style, fitness, running, functional textiles, outdoor, paddling, and water sports. In addition, a new segment will be represented at ISPO SHANGHAI: sports tourism.
You can find a summary of ISPO Beijing here.
"China's middle class has travel fever. Instead of going on a trip together in a group, more and more individual adventures and authentic experiences are in demand that correspond to the customer's personal needs. ISPO SHANGHAI will dedicate itself extensively to the still-young sports tourism in China," said Klaus Dittrich.
On the exhibitors' sides, new brands were likewise able to be won. Along for the ride for the first time: Gola, Gronell, Lifestraw, Millet, Prosperous, Rehband, Swarovski, Tecnica, ON, and Zeiss.
ISPO SHANGHAI 2016: Trends in China
But not just brands are represented in Shanghai; organizations are also participating in ISPO Shanghai. The European Outdoor Group (EOG), which already exclusively supported the outdoor segment at ISPO Beijing, is likewise getting involved in ISPO Shanghai. Other partners are Fitness China, the China Sports Industry (CSI), the Scandinavian Outdoor Group, the China Commerce Association for General Merchandise (CCAGM), and the World Federation of the Sporting Goods Industry (WFSGI).
That's why, despite turbulent stock markets, China nevertheless remains a growth market in sports.
ISPO-Services offered in Shanghai
The trade fair will meet China's most important trend segments with their own villages. "ISPO SHANGHAI 2016 will dedicate individual villages to the growth fields of running, paddling & watersports, action, and sports style. Furthermore, there's a new focus in the field of outdoor with sports tourism," explained Dittrich.
Those who want to become active in sports likewise won't get shortchanged. With the ISPO DEMO DAY and the ISPO LIGHTNING RUN, there are two opportunities to demonstrate your fitness and test your own trend sports.
As with all ISPO trade fairs, Shanghai will also represent the ISPO services of ISPO Academy, ISPO AWARD, ISPO BRANDNEW, and for the first time ISPO TEXTRENDS.