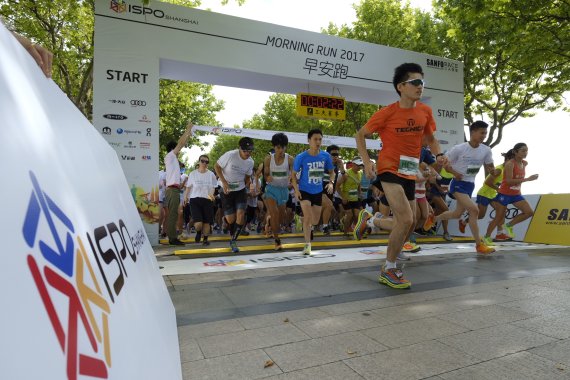 After extremely positive numbers for exhibitors and brands ahead of ISPO Shanghai – an increase of 22 percent compared to 2016 – the conclusion after the multi-segment sports trade fair in 2017 turned out to be very satisfactory, as well. From July 6-8, for the third time, roughly 14,000 visitors to ISPO Shanghai in the Shanghai New International Expo Center saw for themselves that sports are becoming more and more important in China.
"The enthusiasm of the Chinese people for new sports products and trends was clearly noticeable during ISPO Shanghai. The market is constantly growing, and the thirst for knowledge is great," says Klaus Dittrich, Chairman of Messe München's executive board.
Sports trade fair with business know-how
ISPO Shanghai 2017 was once again able to meet this thirst for knowledge with its detailed information events and further education courses. As part of the ISPO Academy, FIFA ambassador and former Bundesliga pro Wynton Rufer explained China's ambitions in professional soccer at the "Football Talk." Participants all received important business information in the Retail Camp and the Market Introduction Program for China.
Does your company want to venture the step towards China? You can learn more about the Market Introduction Program for China here >>>>
In addition to these events that have grown over the years, it was primarily the still young cooperation with China's largest B2C online retailer TMall that left an extremely positive impression. During the three days of the trade fair, the web presence generated more than two million likes and 40,000 comments with its livestreams to end customers. The concept of an online store for purchasing products displayed directly at the trade fair online was a complete success.
Brands for Good at ISPO Shanghai
The topic of sustainability also got a larger stage at ISPO Shanghai 2017 and was received with interest by trade fair visitors at the appearance of Brands for Good.
Active exercise wasn't short changed during the fair's third edition, either. The successful execution of the ISPO Demo Day was further expanded and roughly 400 runners took their marks at the ISPO Morning Run in Shanghai's Century Park.