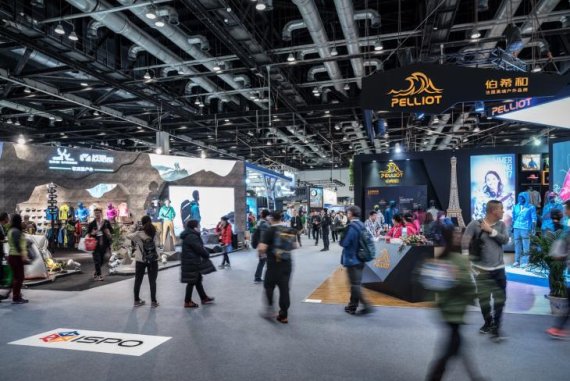 ISPO.com spoke with Elena Jasper, Exhibition Director of ISPO Beijing, and ALPITEC CHINA Exhibition Manager Geraldine Coccagna about the Olympic effect, the relocation of the two trade fairs in 2019, and the highlights that await trade visitors in China's capital city in 2018.
ISPO.com: Ms. Jasper, Ms. Coccagna, ISPO Beijing and ALPITEC CHINA are entering their tenth year together in China's capital city. How satisfied are you with the planning for the trade-fair year in 2018?
Elena Jasper: We are extremely happy with the planning for 2018. Due to the continued growth in demand when it comes to winter sports matters, we are seeing an increase in brands exhibiting, and we are getting uniformly positive feedback. In addition, support from the Chinese government for sports programs remains strong, and the 2022 Winter Olympics in China is also having a positive effect. Furthermore, much more attention is being focused on Asia in 2018, because only nine days after the ISPO Beijing, the Winter Olympic Games begin in Pyeongchang, South Korea.
Geraldine Coccagna: ALPITEC CHINA is also noticing a lot of growth, just like ISPO Beijing. There's considerable investment being made in winter sports facilities, especially, because of the 2022 Winter Olympic Games. The planning has to get started now, of course, but the money is already available, and it's being spent.
Ms. Jasper, what topics are being given special emphasis at ISPO Beijing 2018?
Jasper: I'd like to highlight our Corporate Social Responsibility Stand, which will be set up for the first time at ISPO Beijing. With this new stand, we want to accommodate some of the current developments in this area, such as in the field of environmental protection. The Chinese government has recently started to pay much closer attention to the correct implementation and observance of environmental laws, as a result of which many companies are having to rethink their practices and are looking for more environmentally-friendly technologies.
ISPO Beijing would like to serve as a platform here to give western and Chinese companies the opportunity to take a step in the right direction. In addition, the topic of start-ups and innovation will play a bigger role. Following a purely Chinese start-up village in 2017, the second edition in 2018 will also include product presentations from four western companies hailing from the United States, Scandinavia, France and Germany.
Ms. Coccagna, what topics will be highlighted at ALPITEC CHINA this year?
Coccagna: At ALPITEC CHINA, the technology establishes pretty clearly what the topics are: Snow machines and lifts, snow groomers, etc. What we are particularly focusing on this year is serving as a source of information for our trade visitors. We want to give visitors to the trade fair even more input so they can invest in Asia properly and successfully.
The environmental factor is also playing a big role for us because the necessary expertise, the knowledge of how facilities are planned and built, ultimately benefits the environment too. Due to this, there will be a second day of the Asia Pacific Snow Conference together with ISPO Beijing this year, which will deal with technical information specific to the industry.
What has changed in the programs of your two trade fairs in comparison to last year?
Jasper: "Changed" is perhaps the wrong word, but certain things may be getting more emphasis. The conference program always has been and always will be important to us. We continue to see a big demand for information, for further training and education, and we are very proud to be the platform that brings the experts together.
Coccagna: I wholeheartedly agree with Ms. Jasper. With ALPITEC CHINA, it's also about being a platform where experts can meet and take a lot back home with them. It is no longer really about taking a product with you. Instead, the trade fair is a meeting point, it is networking and an opportunity to get information.
Ms. Jasper, with its tradition and size, ISPO Munich is somewhat of a big brother to ISPO Beijing. Are there any areas where ISPO Beijing outdoes its Munich counterpart?
Jasper: For me, that definitely has to be the future potential of the market. Here's an example. One of the participants from the start-up village, who, after winning the ISPO Brandnew, has the opportunity to exhibit at an ISPO, has very deliberately decided to present their product at ISPO Beijing rather than at ISPO Munich. I think it says something when a young company chooses a relatively new trade fair in the Asian-Pacific region as an exhibition location instead of the largest international sports trade fair.
Ms. Coccagna, you organized the first ALPITEC CHINA in 2009, and in 2017, you again became responsible for organizing the event. What has changed in these nine years?
Coccagna: Above all, the views and attitudes of the companies have changed. In 2009, our exhibitors came to China worrying about whether their products would be bought or just copied. Over the last ten years, the situation has evolved in a very positive direction for us.
Our international exhibitors have established themselves in China, opened offices there, or have entered joint ventures. At the first ALPITEC CHINA, there was only one Chinese exhibitor. In 2018, the ratio of international to national exhibitors is 1:1.
How did you manage to allay this fear? Were the 2022 Olympics and the possible profits one of the driving forces?
Coccagna: The 2022 Winter Olympic Games in Beijing definitely also played a role, but the boom had already started before China won the bid for the 2022 games. The most important factor was our consistent policy of informing and educating our exhibitors.
For example, we organized events for companies in South Tyrol to help them better understand the Chinese market and recognize the positive effects. Nonetheless, it is still a bold step to enter a market where you initially do not understand the language or the culture.
Jasper: In addition, I believe that, particularly in our fast-moving world today, the long, reliable and successful connection between ISPO Beijing and ALPITEC CHINA is highly valued in China. Tradition and trust are important values in China.
In 2019, ISPO Beijing will move to a new location along with ALPITEC CHINA. How difficult was finding a new location, and how far along are you in the planning process?
Jasper: The relocation was originally planned for 2020 but, considering that we've already practically run out of room this year at the China National Convention Center (CNCC), we are very happy to be able to relocate as early as 2019.
We sorted out a suitable alternative early on and are very happy with the choice of the New China International Exhibition Center - we did notice that there weren't many options available to us with the size we wanted. The location is a lot closer to the airport and, with 200,000 square meters, offers considerably more space for our exhibitors. So getting to the event will be much more comfortable for our international visitors especially.
Coccagna: The relocation for us, ALPITEC CHINA, is also a big win, because the lack of space in the last few years has been our biggest problem.
How do ALPITEC's requirements for a new location differ from those of ISPO Beijing, Ms. Coccagna?
Coccagna: ALPITEC CHINA needs halls that can accommodate bigger appliances, machines and vehicles. At the CNCC, we would have happily moved to the top floor, but ultimately, there was no way to get a snow groomer up there. A hall at ground level, and with a ceiling as high as possible in the new location, makes it a lot easier for us.