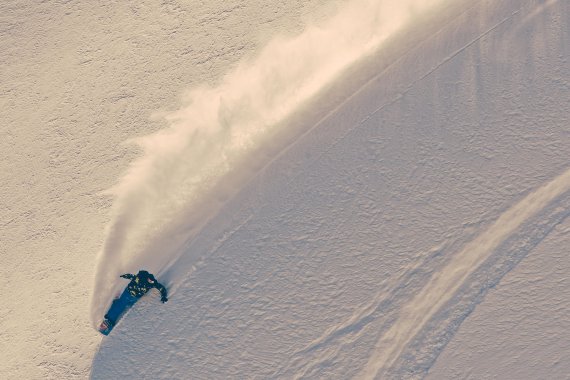 During a kick-off event with renowned brand representatives in the restaurant Seehaus in Munich ISPO Exhibition Group Director Markus Hefter and Community Manager Jose Moreno presented the new concept. "Action sports have always been and are still an essential part of ISPO MUNICH. Our all-inclusive offer Polygon of ISPO gives all market players the opportunity to participate in ISPO MUNICH and to set a statement together as an industry – there is no longer an excuse not to take part", said Markus Hefter.
Polygon offers a perfect work and networking platform with a structured focus on the product with a calculable investment, according to Hefter. The all-inclusive package is available from 5000 Euros, customer service hotline and website are included, there are model-offers for four booth types. The business aspect is given priority again. Low booth heights and a central aisle with daily after work area transform hall B6 into an open networking business platform. Also important is the aspect of sustainability: the longterm planning (the concept is designed for at least three years) stands for reusability – among other things because it doesn't produce unnecessary advertising, carpet areas are not provided.

And this is what the brands from the action sports industry say about the new concept...
Peter Bauer, CEO and founder AMPLID and PALLY'HI:

"I am very keen on the new concept for the Action Sports hall B6 at ISPO. I was asked for my opinion by those responsible in advance and was able to give my input – this is a start, which I think is a very good idea: to approach the brands directly and ask for their wishes.
This industry has come to realize by now that the time of muscle flexing should be over. Who has the biggest booth, who plays the loudest music, who is the strongest muscle man? Those are issues from yesterday, which shouldn't – especially in sight with all the discussions about budget – play a role today. With the new hall concept it will be possible to lower the costs and give priority to the business again.
Also the idea of the care-free-package and the composition of modules is great. Obviously the opulent illustration facilities are limited now, but exactly that is the idea: the emphasis lies on the product again, not on the staging. First and foremost: the creativity of brand is important, not to make a show of it. This also gives the big brands new opportunities.
All in all I expect specifically from the business-character a distinctly better opportunity for exchange for the community and one that is generally more open. That is something we all benefit from.
Something I especially like as well is the fact that environmental aspects play an important role. When you see how high the PVC pollution and wastage of products from other trade fairs still is, especially the ones which still use carpets: here this concept really can be seen as role model. This is an ideal prototype, which could be very important especially for the outdoor sector, because it tries to be mindful about sustainability. I, at least, feel very well catered for with this new hall concept."

Tommy Delago, owner and founder NITRO: 

"Principally this concept is heading into a good direction. The arms race for the best booth has to end, otherwise no one will come anymore. The business has to find itself again, the products have to be the main focus. The new concept takes account of this. The inviting, open design will enhance the open communication the Snowboard Industry is known for and It is very reasonable, for the economy alone, when it's not only about the staging, but the products."
David Pitschi, Global Brand Manager SALOMON:

"I think it is very important that the image of the brand can be in the center of attention and the identity of the brand is emphasized. And this happens the best with the products. This is why my express wish would be to have a on-snow snowboard testing. It will be important to see how the keyplayers will involve themselves, this has an impact on the whole industry and the trade. the concept is very interesting and offers a new approach, I believe it's strong if everyone commits to it."
Michael Fiebig, Sales Manager DAKINE:

"Like a lot of other exhibitors we come from a high investment. The new concept is therefore simply interesting for financial reasons for us and sounds very exciting. ISPO is an event which continues to provide the best platform for sports retailers .. I like the new concept, because we are moving from a pure marketing trade fair back to a business and order trade fair. Therefore it is very important to me personally that loud music and booth parties are regulated and we get the opportunity to bargain.
I approve of the fact that ISPO stays a pure B2B trade fair simply for the reasons mentioned above. At the same time I am happy that with ISPO.com a new channel to the costumer is opened. The change in market structure between online and stationary trade requires this. The final customer needs to be informed early on and trained to know why he should buy our products."

Marian Kaeding, General Manager Europe MERVIN:

"This is a very exciting approach, especially because the industry, the companies, have been made a part of it. Not to manage it past the brands, but to risk innovations together, is the right signal for the sector, especially in these times. I feel like the new approach is fresh and that the sector has taken it upon them in a good way. On the one hand, because the concept allows more brands to be able to afford it again. On the other hand, because the business is in foreground again and gives the change to strenghten the community. Important is for me that with this concept the individual companies won't keep to themselves anymore, but move together as a community. This way ISPO MUNICH becomes a neutral platform, into which everyone brings their content with the goal to interchange information."

Phillip Kämmerer, Sales and Marketig Manager ROMESNOWBOARDS:

"It is good that something is changed and it is the perfect time to do so. The concept attracts a lot of interest, hopefully from everyone: the keyplayers, the retailers, the distributors. I like it a lot that the aspect of a trade show is given priority. The focus on business makes it easier to argument why you should be a part of it in times of difficult budgets."

"Everything has become easier, clearly structured, clean and without a fuss. This was summarised very well with the aspect "Back to the roots". In my opinion those are the best conditions for a re-start. The scene doesn't need competition as of who builds the biggest booth, it has to be about the sport again and about the products. Only then it all makes sense. I am hopeful that we can practice more business again. And that it is no longer about the show. This recollection is a challenge – with big chances. The acces is made easier for a lot of retailers. I hope that a lot come."