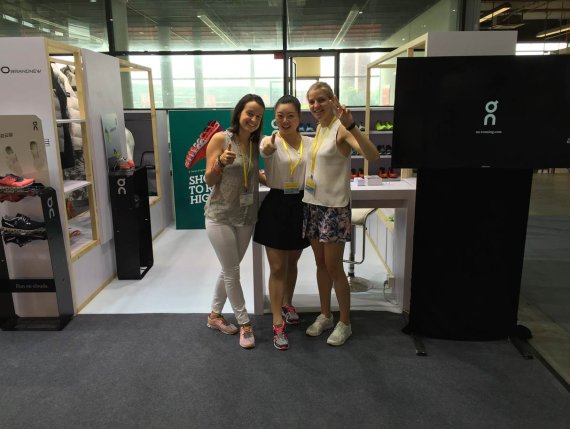 Among the younger sporting goods vendors, On of Switzerland is already one of the more experienced players. The specialty running footwear brand already sells to 50 countries worldwide, including Far East markets like Taiwan, Thailand, Singapore, South Korea and Japan – where it even has its own subsidiary.
But On has not made it into China – yet. At ISPO Shanghai, the management has been busy learning about the opportunities in the country. Christina Stender, international sales manager, describes her starting point with caution: "For us, the question is always whether we want to enter a country at all. Once we have made that decision, we deal with the question of how to penetrate the market."
First step: Understanding how retail works
The analysis of this first question is the reason why On shows in Shanghai. It is all about screening potential distributors and getting in touch with retailers. "I need to develop a feeling for how those retailers think."
On seems to be quite demanding with regard to identifying the right sales partners. "Initially, it is less about sales and more a question of finding brand builders who understand the message of our brand and who are excited about it."
One condition for the cooperation with a distribution partner is the exclusivity of their agreement, i.e. they must not sell any other footwear brand. In other markets, the Swiss often work with distributors who sell complementary brands, for example running apparel. As a result, and thanks to such partners, On has access to a pre-existing network of retailers. 
Specialty running retail still an emerging sector
In many countries, On works mainly with specialty running retailers. The challenge is, as Stender describes it, that in China there are a very small number of such retailers available. She estimates that there are not many more than 30 – not a large number given the size of the country.
For this reason, participation in the Market Introduction Program offered at ISPO SHANGHAI is critical for the vendor. "I need to get a sense of whether a potential distribution partner fits into our brand philosophy", says Stender, who offers a list of questions to the candidates: "Tell me which kind of shops you supply, the type of events you sponsor and how you deal with online retailing."
Notwithstanding this, Stender has defined targets with regard to the Chinese market. "Next year, I want to be standing at the booth of a distributor or I will be at the show with our own booth."
Meet and greet at the show, follow-up talks later on
At Arys, the high-end technical sportswear brand from Berlin, the thinking takes a similar direction. According to Meishin Lin, key account manager, the brand still has no distributor in China. But she values the participation in the ISPO program because it has enabled her to get in touch with interesting potential business partners, including potential wholesalers and other interesting contacts with retailers, fabric suppliers, designers, etc.
For Lin, it is less important to find sales partners on the spot straight away. It is more about making first contacts, which require more intensive follow-up talks with interesting companies at a later date.
On pushed by ISPO BRANDNEW
For both Arys and On, the key to their successful participation in the Market Introduction Program was their triumph at the ISPO BRANDNEW Awards. This is the most important contest for rookie enterprises that ISPO organizes every year to support innovative firms and to feed the industry with new ideas.
On executive Christina Stender confirmed that the participation in the BRANDNEW contest was "of great value in making initial business contacts", notably on the international stage. When speaking to her in China at the ISPO SHANGHAI, she pointed out that winning the BRANDNEW award back in 2010 was key to their penetration of international markets. According to Stender, On had already become a "mature" brand compared with the current fledgling brands, but would not have developed in the same way without the support from the BRANDNEW contest and the attention the brand received at the time.