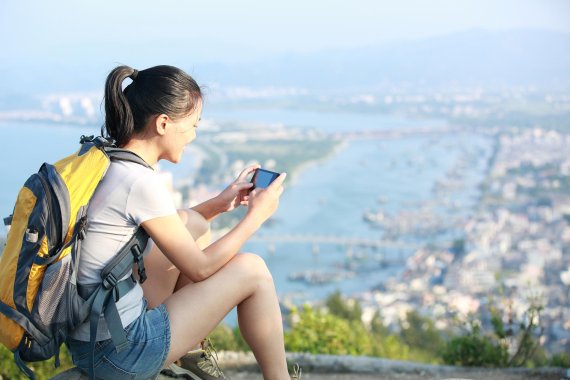 For every need there's a digital solution, for want there's a little helper. The app collection on many cell phones is becoming accordingly large – and sometimes confusing – and the swiping finger sometimes doesn't just hurt because of the Tinder app. 
Outdoor enthusiasts can also draw on countless applications to make their experience outdoors easier, more exciting, or even safer.
Tencent publishes the Mega App out of China
So how cool would it be if an app could do everything? Sounds like it's still a long ways off, but it isn't. That's because, while the digital superpowers of Silicon Valley like Google, Facebook, and Apple are working against instead of with each other, a company in China has long since solved the problem: Tencent.
The Shenzhen-based company is among the technology giants in China, along with Alibaba, Huawei, and Baidu, and developed the mega app with WeChat. Originally conceived in 2011 as a messenger app – comparable with WhatsApp – WeChat rapidly evolved into much, much more.
How online marketing works in China: These are the most important market players >>>>
The free opened to third party suppliers, thus creating a service cosmos for its 846 million monthly active users (MAU) that makes it possible to carry out all transactions, activities, etc. in WeChat. By comparison, WhatsApp gets to 1200 million MAUs in the US and Europe combined, and only offers a fraction of the functions that WeChat has available.
ISPO.com shows how powerful WeChat is using a fictitious outdoor day in China. Let's get started by planning the trip, inspired by ISPO SHANGHAI , in Moganshan roughly 220 kilometers away.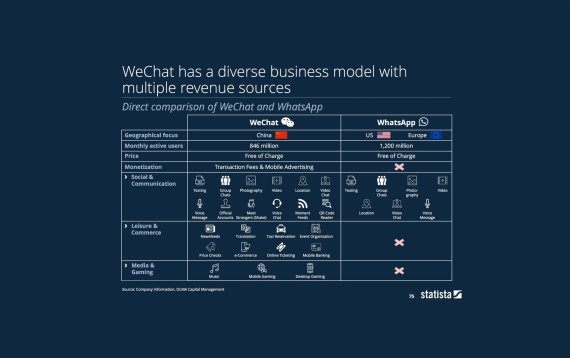 Point 1: The equipment
Chinese citizens love shopping with their smartphones. Roughly 300 million of the 938 million active users (as of May 19, 2017) have saved a credit card on WeChat, while 200 million are registered for the WeChat internal service WeChat Pay.

By combining e-commerce platforms like Tmall and Taobao, the outdoor aficionado gets everything they need for their trip. What doesn't necessarily need to be bought can eventually be rented on site and paid for with WeChat Pay, as it has been possible to pay at roughly 300,000 offline businesses with WeChat Pay since mid-2016.

Want to trade in the mega market of Asia? These are the most important sales platforms in China >>>>
Point 2: The transportation
WeChat can be used to organize your entire route from your front door to the start of the trail. Via Didi, the Chinese equivalent to Uber or Lyft, can be use to order a driver in front of your door. You can then buy your train ticket to Moganshan via WeChat Wallet.
Point 3: On site
Naturally you can hit the road on your own once you've arrived in Moganshan, but if you value company and/or a good guide, WeChat can help. Using the Subscription function, you can get into contact with an outdoor supplier in Moganshan without any problems.

Prodigy Outdoor , for example, offers everything from bicycle tours, to hiking, all the way up to boat tours. If you want something a bit more exciting, you can also just shake your phone on location. The so-called Shake function will then suggest other users who also shook their smartphone at the same time. This way, you can find other people quickly - and maybe even your next hiking partner.
ISPO SHANGHAI Success Story: How the 2017 Trade Fair Turned Out
Social media when hiking
Once on your way, you can't miss the perfect landscape photo or successful summit selfie. To make sure friends can share in your triumphant summit attempt, WeChat has the Moments function.

Here, you can post photos with commentaries that are traceable for all authorized WeChat contacts. To fully bear witness to your accomplishments, there's also the option to link with your fitness tracker and document your outputs.
Should you yourself or a member of your hiking group get lost, you can use the Location service to send your whereabouts to WeChat contacts.
Point 4: Recovery phase 
If you do the work, you need the rest! After a strenuous day outdoors, dinner with your hiking buddies will naturally taste twice as good, and the Shake function can also be used here. Then, you can use it to download coupons and offers from restaurants.

Naturally, reservations can also be made for restaurants, and payment via smartphone is usually obligatory. Should cash still be king, and just one person is taking care of the check, it's not a problem either. For this, WeChat has the so-called Red Packets, using which money can be transferred between people or groups without a problem.
And if the trip brings serious pain instead of just a few sore muscles – wet roots are the natural enemy of the ankles – it's still not a problem. You can easily arrange a doctor's appointment via WeChat – a function that hopefully no one will need to make use of.