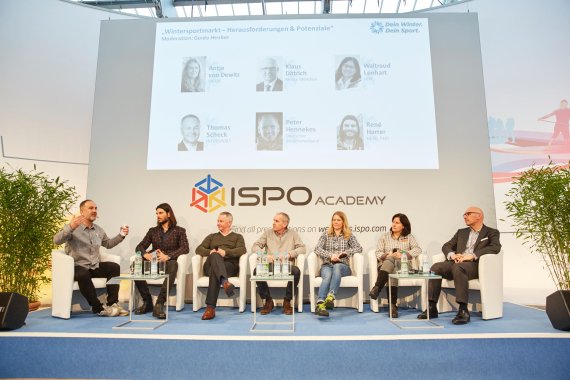 Introducing more people to winter sports
The starting position: Down jackets in the summer and sales before the first snow has fallen. A variety of manufacturers and countless product versions in one saturated market. The customer is discerning, the competition in retail is big, and the manufacturers are under pressure. And in the end it's all dependent on the weather? No!

The winter sports market faces major challenges, regardless of indisputable climate change. It needs ideas and new approaches – but above all, it needs more community spirit. The entire winter sports industry is being challenged to develop fundamental solutions.

The core question is: How do we get back to introducing more people to winter sports? Because when that's successful, good products will also be bought.
In an keynote in front of a fully occupied seating area, Dr. Ottmar Franzen (managing director of the agency Konzept & Markt) began with a very colorful summary of the situation in sports retail and posed the provocative question: Is retail itself bringing up bargain hunters?

Reduced pre-season wares in September, Black Friday promotions in the middle of November, other sales even in the pre-Christmas season, and finally drops in prices of up to 70 percent after the holidays – how is that supposed to go well? 
Competition Invigorates Business
Participating in the first of two discussion rounds: Klaus Dittrich (chief manager of Messe München), Thomas Scheck (Intersport), Peter Hennekes (Deutscher Skilehrerverband), Antje von Dewitz (Vaude), Waltraud Lenhart (Leki), and René Harrer (Head).

Antje von Dewitz's take on the general position of the industry: "We find ourselves in a concentration phase. There is definitely an oversupply, where a concentration on the essentials is in demand." Head Marketing Lead Harrer agreed with her: "Competition is good and invigorates the business."

Leki Chief Executive Waltraud Lenhart's view: "What's important is recognition. Only that way can the end consumer build trust in the brand." 

In this context, Intersport Chief Executive Thomas Scheck pointed to the special significance of ISPO MUNICH: "ISPO was and is THE platform for innovations."

Trade fair boss Klaus Dittrich recalled the fact that ISPO MUNICH is a "big promotional campaign for winter sports" and also chimed in that he wanted to go on tour in the near future, but first had to find out with some surprise that much-needed equipment was sold out – in the middle of the season. "Retail needs to work on that," said Dittrich.
More School Vacations During the Season 
To keep winter sports alive in the young generations, DSLV Chief Executive Peter Hennekes initiated the website www.wintersportschule.de, as virtually an organizational and class guideline for teachers who want to take their students to ski camp.

There are about seven million skiers, eight million cross-country skiers, and 4.4 million snowboarders in Germany, but the winter experience also needs to be shared with the next generation, says Hennekes. In general, it's also worth strengthening spring skiing. 

There have been white Christmases in 20 of the last 80 years. You can hardly talk about winter before mid-January. For this reason, Hennekes posed the rather rhetorical question: "In the future, will we really need two weeks of Christmas vacation? And: Does every state in Germany need to have ski vacations at the same time during Carnival?"

Instead, vacations should be distributed over the entire year, across Europe, to "protect the cultural asset of skiing," according to Harrer. A suggestion met with no opposition in the panel.
People were in relatively sound agreement on what to do in the second round of discussion, as well. Also there: Gela Allman, who survived an 800-meter fall and fought her way back to life and into sports, Olympic cross-country skiing silver medalist Peter Schlickenrieder, the 16-time Paralympics gold medalist Gerd Schönfelder, and snowboard crosser and X-Games medalist Konstantin Schad, who stepped out of the hospital after a disc surgery and onto the podium.

The quartet's message was clear and distinct: "Just go outside! Don't deliberate so much," recommended Gela Allman, "Going up on the mountain is always worth it!" Paralympian Schönfelder's opinion: "Even with a handicap you can still do some awesome winter sports, even skiing as a wheelchair user. Exercise replaces quite a few dietary supplements."
Schlickenrieder recommended: "Just lock away your cell phone once in a while! And you can even do winter sports in the Englischer Garten park in Munich!" The convalescent Schad got straight to the point in Bavarian fashion: "Out that door! I just had to watch television for three days in the hospital – that's not an alternative!"
Expand your knowledge about the challenges and potentials of the winter sports market and sign up for the webinar at ISPO ACADEMY! Sign up now here >>>