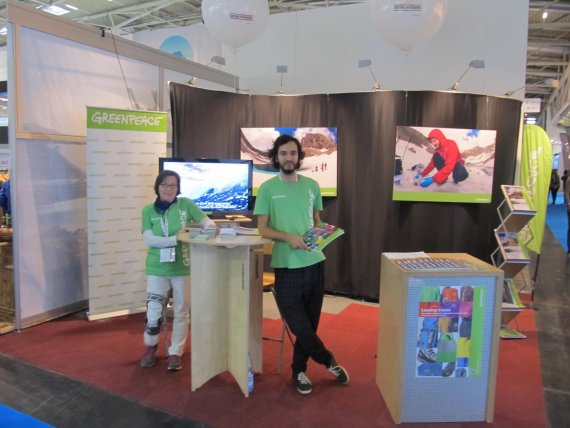 It's not often that the environmental protection organization Greenpeace and industry actors are largely on the same page. But that was the case at the press conference held at ISPO MUNICH on Greenpeace's latest product testing. "The good news is that we now have alternatives to PFCs and they are already being used," said Manfred Santen, a chemical expert at Greenpeace. "Positive changes are happening. Companies like Adidas are investing a lot of money in developing PFC-free alternatives. We are optimistic that we'll soon have efficient products."
Established brands working on phasing out PFCs
A few are already on the market. For example, Greenpeace's product testing included two jackets by Vaude and Jack Wolfskin that do not contain any PFCs. According to Santen, Paramo is the first outdoor brand to pledge to completely stop working with PFCs in future. The audience at the press conference included a number of representatives from established brands that are also ramping up their efforts in this respect. For example, Jack Wolfskin wants to be totally PFC-free by 2020.
PFCs are chemical bonds that are not found in nature; these bonds are used in outdoor clothing to prevent water and dirt from being absorbed. They are barely degradable and are thought to damage the health of people and nature.
"However, relatively speaking, outdoor clothing is only responsible for a small proportion of perfluorated chemicals in the environment. According to a scientific study conducted in 2013, 0.5% of unsafe perfluorated chemicals (PFOAs) in German wastewater came from outdoor jackets," according to a statement by the Federal Association of the German Sporting Goods Industry (Bundesverband der deutschen Sportartikel-Industrie [BSI]). 
Products without PFC
Greenpeace had tested 40 items (jackets, pants, shoes, tents, backpacks, sleeping bags, gloves and a climbing rope) in its third product test. Only four products contained no PFCs. Eleven products contained perfluoroctanacid (PFOA), which is damaging to health. "We invite manufacturers to set themselves an ambitious time-frame for joining in our detox campaign," said Santen.
This message is not new to most brands in the outdoor industry – for example, Vaude was recently honored as Germany's most sustainable brand.