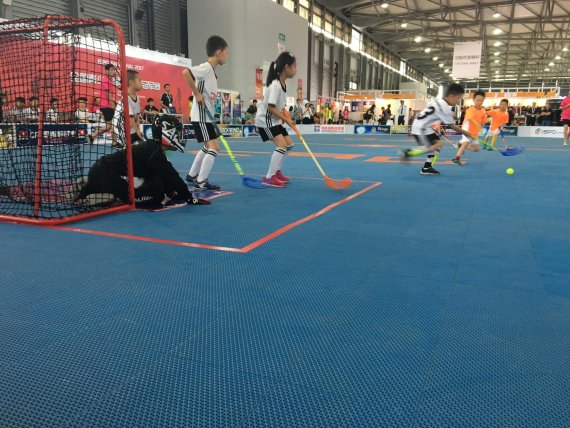 Times have changed in China. The government has realized that a healthy lifestyle with sports has a lot of advantages. There is less strain on the healthcare system; citizens perform better; and ultimately, team sports also teach people how to behave better in social structures and groups.
Long-term goal: 2022 Olympics in Beijing
For a long time, soccer and basketball have been the most popular sports among China's children and youth, but the Chinese are slowly developing a fondness for a niche sport from Scandinavia: floorball.

The "dry variation" of ice hockey is extremely popular, above all, in Sweden, Norway and Finland and can be played on hard surfaces, sand or even in the snow. The sticks are made of plastic, as is the ball, and a team has five players and a goalkeeper.
ISPO.com spoke with Chen Xin, founder of the Floorball Development Center in China, about the growth of this sport, why encouraging sports among children and youth in China was so difficult for a long time, and how floorball can improve China's ice hockey hopes at the 2022 Olympics.
Sports instruction gaining status in China
ISPO.com: Mrs. Xin, how did a Chinese sports teacher come to appreciate a popular Scandinavian sport?
Chen Xin: Quite simply, love. My husband is from Sweden, where the sport is very popular. It was brought to Shanghai by the many expatriates. That was in 2004.
What was the reaction back then when you tried to bring your husband's sport to China?
"At the beginning, everyone thought: the woman must be crazy. Around the year 2000, popular sports still weren't really important in China. Back then, it was really hard to get my students involved in sports. In the opinion of the government, only subjects like mathematics or computer science were important — sports were not even second place.

There were times when the math teacher pulled students out of sports lessons so they could finish his assigned homework sooner! Now, sports for children and youth, and for students at the university level, has become mainstream.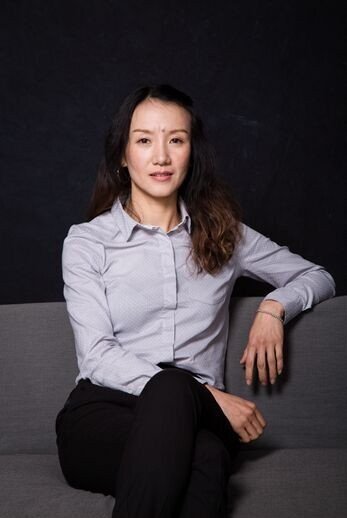 How hard was it to bring about this paradigm shift?
When I was working on my sports teaching degree in Shanghai, I played a lot of soccer, did taekwondo and climbed a lot. I also obtained a license as an international climbing referee.

Then there came a point when I was too old for the competitions, and I concentrated more on training others. I managed to convince my boss that we should be the first university in China to get a climbing wall, and that was the first step towards bringing relatively unknown sports to China.
How did your students respond?
In the end, the project unfortunately didn't really take hold, as we could only climb two routes, and the lines were extremely long. The hype over the climbing wall disappeared relatively quickly.
Floorball gains momentum in China
Why did you think that things would go better with floorball?
In my husband's group of players, there were younger players, old players, women — and it soon became clear to me that this sport has mass appeal. There was immediate interest among my students, but getting equipment, like sticks, proved to be not that easy. Everything had to be imported and was very expensive.

Since 2009, we've been producing our own sticks in China, and we've already managed to convince 20 universities to include floorball in their curriculum and take part in a league. At this point, more than 1,000 coaches from 27 provinces are being trained, and China joined the International Floorball Federation in 2016.
And how are things moving in the children and youth areas?
Here in Shanghai, where the sport is most popular, we've made a lot of progress with the government. Not long ago, I set up the Shanghai Floorball Federation, and the local government assured us of their support right away.

Politicians understand, at this point, that they can trust organizers like me and that sports for children and youths are extremely important and well regarded. And that's why we're also particularly proud of our cooperation with ISPO SHANGHAI. The feedback for our children's floorball tournament was extremely good. There was constantly something happening at the playing field.
From rollerblading to ice hockey?
What do the plans for the future look like?
For Shanghai, the aim is to expand the existing league system further. Furthermore, we are planning to establish leagues in "Tier 1" cities too, like Beijing. The 2022 Winter Olympic Games in Beijing are a long-term goal.

China is currently not particularly good at ice hockey, and floorball will be the first step toward introducing this sport to a whole generation en masse. Apart from the ice skates, floorball has all the components of ice hockey.
Then, only the tiny problem of the ice skates remains ...
That's right, of course, but the Chinese government also has a plan for that. Along with floorball, rollerblading will also be heavily promoted — and that's how the pieces of the puzzle will slowly come together.