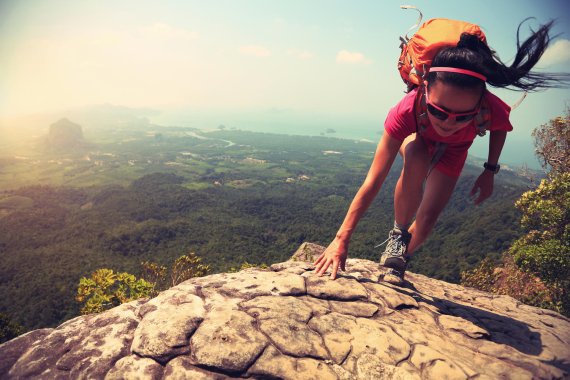 Saturated markets in Europe and North America make for a tough fight for customers. In many parts of the world, the sporting goods industry now has to work very hard indeed to attract customers' attention to their products and ultimately convince people to buy them.
In China, it's a different story: here, there are several factors that open doors to new possibilities and prospects for companies that have long since closed on the "old" markets.
Do you want to be a part of this development? A booth at ISPO SHANGHAI will make this possible. Learn more >>>
ISPO.com reveals five reasons why China is a dream come true for the sporting goods industry.
1. Sports are enjoying a wider acceptance in society
China has developed from a pure workers' state to a diverse society whose members now have significantly more free time on their hands to actively shape their own recreation. Gone are the days when sport was an activity reserved for the elites; these days, it is a pastime for the masses. One example: Fitness app Keep was downloaded 40 million times by July 2016 and gym membership has also seen a rapid increase. According to an IBISWorld study, the "Gym and Health" sector grew by 11.6 percent between 2011 and 2016, and in 2016 generated a turnover of more than six billion dollars. That still leaves China behind the USA with its 30 billion, however the growth rate in the United States is significantly lower with a meagre 2.5 percent.
Here are the latest fitness trends in China's capital Beijing.
2. Demographics
One reason for this growth in the "Gym and Health" sector is of course demographic change. Especially the sheer number of millennials who are particularly keen on sports, sports clothing, and the whole lifestyle this sector brings with it makes for one happy industry. According to a study conducted by Goldman Sachs, in 2015, China was already home to more millennials (a popular target audience for the sports industry) than the entire working population of Western Europe and the USA: 415 million. In addition, China's middle class continues to grow rapidly, meaning that China's cumulative income will increase in the next 10 years to approx. three quadrillion dollars.
China shops online: China's crazy Singles' Day
3. Digitization
Regardless of the country's official internet censorship, China's citizens still find ways to read up on what interests them. Smartphones in particular are used in a more comprehensive and intensive manner in China than anywhere else on the planet. The communication platform "WeChat", which started as an improved copy of WhatsApp, has now developed into a multi-function app used to make transactions, as a publicity platform for companies such as Adidas, and as a virtual noticeboard where sports groups and anyone interested in sports can find information on get-togethers and trips. The first quarter of 2016 saw approximately 762 million users on "WeChat", about 15 percent of these from outside China.
4. Athleisure and outdoor clothing as status symbols
China's young and consumer-heavy society is looking for new ways to cast off the socialist way of life that even extended to the world of fashion. Of course the increasing popularity of all things sports also feeds the population's interest in sports clothing, with international brands such as Adidas, Nike, or local players such as Anta and Toread having long since become a staple part of people's fashion diet: Athleisure has made it to China. In the last quarter, Nike reported a growth in sales of 9.5 percent to 1.08 billion dollars. In 2016, Adidas' sales grew by 22 percent to approximately three billion dollars in China. According to a Euromonitor study, with 28.4 billion in sales, China's sporting goods industry is the second biggest market in the world behind the USA with sales of 103.6 billion dollars. In terms of growth, China's 11 percent in significantly higher than the five percent recorded in the rest of the world.
Read here: Gore-Tex's plans for China
5. Government support
One factor not to be underestimated is the support provided by the Chinese government. China's President Xi Jinping is a declared soccer fan and wants to be able to cheer on his country as something more than just an underdog at the next World Cup. That's why he wants to see the construction of 70,000 new soccer pitches by 2020 and a huge drive for more co-operation with international associations and clubs.
You can learn more about FC Bayern München's activities in China here
China's President want to increase spending in the sports industry to 850 billion dollars by 2025. Within the framework of the national fitness plan (which is to be implemented by 2020), the Chinese government plans to use sports to advance all sectors in the country, that is industry, state, and society.