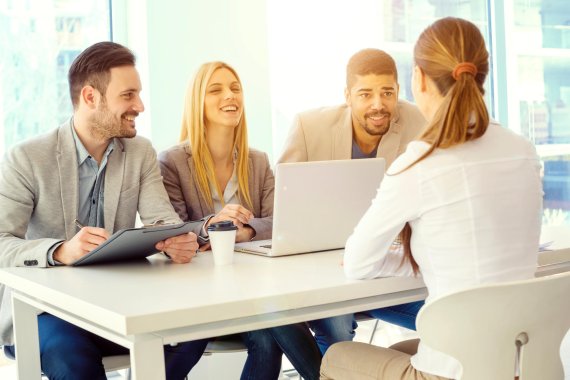 Those who kept their eyes and ears open and talked with industry insiders at ISPO MUNICH 2017 will be in the know of what's going on in the sports world. For everyone else, however, it's just as important to know the current mega-trends and future topics of the sports business.

That's because: In job interviews, smart staffing managers will sound out whether candidates are up to date, actually well-versed on the scene, and constantly stay informed of new innovations.

Those who have the right answers prepared for the question "What do you think are the most important topics in the industry?" will for sure get another step further in the next selection. Those who know next to nothing about it will fly through the cracks.
That is why we've compiled an overview of the most important trends in the industry here.
1. Healthstyle is growing, thanks to the latest technology
Health and fitness are the current lifestyle – healthstyle for short. At ISPO MUNICH alone, this has an entire dedicated hall this year. The topic had its own forum as early as 2011. By now, fitness trackers and corresponding apps have long since been established. Now there are shoes and clothes outfitted with sensors to measure and react to body data like heart rate.
ISPO Exhibition Group Director Markus Hefter, has predicted, "Among other things, in the future there will be smart clothing whose fibers collect information. So, in the foreseeable future, there won't be any more sensors or chest straps."
Thus, being familiar with healthstyle as a lasting trend is imperative – correspondingly, every applicant should stay up to date on what the hot gadgets and applications are. 
Read here: Going into a sports job directly after graduating? Career opportunities and tips for job entrants >>>
2. Virtual Reality will boom
The newest and probably hottest topic in sports is virtual reality (VR). With VR goggles, athletes and customers are immersed in and experience worlds of experience "as if they were real." That way, everybody can run, drive off, or paddle in a life-like environment on the training device.

The Holodeck VR by Bogner, for example, simulates a ski slope. At Kettler, you can use VR goggles on the ergometer to traverse a custom course. The possibilities are endless.
There are also several options here for sporting events – through 360-degree cameras on helmets, racing cars, or bobsleds, fans could experience the competition first hand.

Ultimately, even the athletes themselves will be able to prepare themselves even more intensively - and with less risk of injury - for competitions.
3. Added value through Augmented Reality 
What's even more interesting for spectators at sporting events: augmented reality (AR). Those who know Pokémon Go will know what AR is: additional information and interaction opportunities via smartphone apps or glasses, like with Google Glass.
For example, in the future I'll be able to detect where friends are sitting in the stadium at sporting events, and get additional information like previous distances or statistics displayed just by looking at players. In addition, event organizers are presented with commercial options to make board advertising more interactive and accentuate the AR experience through sponsorship.
4. Connected Stadium already in the works
Already quite real is the topic of connected stadiums, which are currently being tested by individual soccer clubs. Through high-performance mobile communication technologies, the stadium is made into a Wi-Fi hotspot, even when tens of thousands of fans get online at the same time. Spectators can pull up real-time information like slow-motion shots or videos parallel to the game, and still share everything online on their social media.
The entire thing can theoretically be customized for users according to their own default settings. In return the event organizers get more insight into spectator behavior, and could adjust their sponsorships accordingly, as predicted by Gerd Nufer, head of the German Institute for Sports Marketing, in the newspaper "w&v."
Read here: A surefire way into the sports business – Five tips to get your career started >>>
5. Big Data will change the sports world
Nearly all of the mega-trends are based on digitalization, on information technology (IT). The networking of all available data – Big Data – can offer even some as yet undreamt-of possibilities here.
The consulting firm Deloitte, for example, analyzed future possible applications for Big Data in their sports business study "Trends expected to disrupt and dominate 2017." This includes optimization of ticketing, fan product merchandising, and the customer loyalty program through customer clubs and bonus programs.
Those who know everything about the sports fan through their data, from shopping behavior to event attendance and all the way up to fitness activity, can make even more precise offerings just for them.