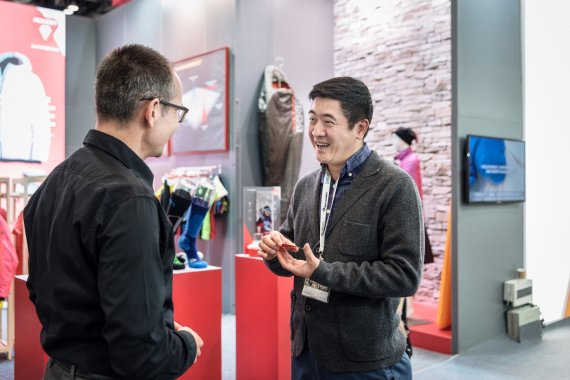 Lectures, live demonstrations, and top-class panel discussions. ISPO Beijing once again has a strong program ready for trade visitors in 2018. The fifteenth and final edition in the China National Convention Center will begin on January 24, offering its international audience four days of innovations from the world of the sports business until January 27.
ISPO.com has compiled the most important events at the multi-segment sports trade fair in China's capitol city for you.
China Rock Climbing Summit – Climbing at the 2020 Olympics
Just two and a half more years until the 2020 Summer Olympic Games in Tokyo. For the first time, sport climbing will also be represented as an official discipline at the Olympics. A panel discussion including China's climbing expert Yongbang Liu and Jianghua Zhu, General Secretary of the FUSC climbing federation, will talk about how the sport can be best presented.
When: 2:35 to 3:20 pm
Where: Conference room M-307A
Asia Pacific Snow Conference
What trends are looming in China's winter sports market, and how ready is Beijing for the 2022 Winter Olympics? A special highlight of the ninth Asia Pacific Snow Conference is once again the publication of the "White Book 2017" by China's winter sports expert, Bin Wu.
You can learn more about the Asia Pacific Snow Conference here
When: 9:30 am to 5:00 pm
Where: Conference room M-311B
China Sports Fashion Trend Forum
ISPO TEXTRENDS expert Louisa Smith exclusively presents the ISPO Trends and Color Card for fall/winter 2019/20. Jochen Lagemann, Managing Director Europe and Asia and Primaloft, will also hold a lecture on "Ingredient Branding."
When: 1:30 to 4:30 pm
Where: Conference room M-308
Sports Industry Forum
How can tourism be improved in China's cities, and how does a sports city define itself? These and many more questions will be debated at the Sports Industry Forum, which will be organized as part of the ISPO Academy program. In addition, the 2017 COCA report will be presented by the China Outdoor Commerce Alliance.
When: 9:30 am to 4:30 pm
Where: Conference room M-311B
APSC Technical Workshop 2018
For there first time ever, there will be a second day of the Asia Pacific Snow Conference. The focus of the event, which will take place in cooperation with ALPITECH CHINA, will be the technical implementation (in terms of planning and construction) of new ski regions and their infrastructure.
When: 9:30 am to 4:40 pm
Where: Conference room M-307A
Banff China 2018 Annual Project Release
When: 10:00 to 11:00 am
Where: 3F Conference Area, Fashion Show Stage
Continuous events taking place January 24-27
Market Introduction Program for China
With the MIP, companies are perfectly prepared for their market entrance in China. During the four-day program, participants get a market overview plus a retail tour on site, as well as the opportunity to speak with retailers and distributors.
You can get more information on the MIP here.
When: January 24-27
Where: Various locations
ISPO Beijing Start-up Village
The winners and finalists at ISPO Brandnew present their products to the international trade audience on the biggest possible stage in China. After its 2017 debut with exclusively Chinese brands, multiple international products will be on site in 2018.
When: January 24-27
Where: Hall B2
Brands for Good – Corporate Social Responsibility
After the successful kick-off during ISPO Shanghai 2017, Frank Lohse will also be represented at ISPO Beijing 2018 with his "Brands for Good" booth. Corporate social responsibility is becoming more and more important in the sports industry, and ISPO Beijing aims to set an example with his booth.
You can learn more about the Brands for Good company here
When: January 24-27
Where: 3F Conference Area