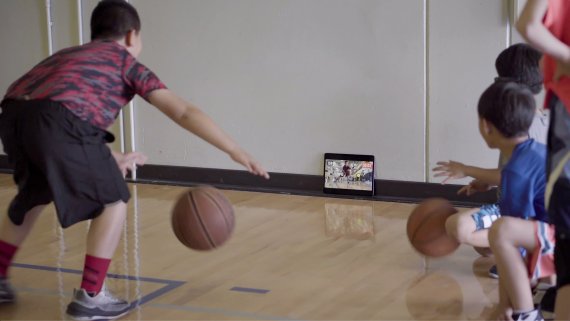 The company Nex Team tops the ranking. Its app "HomeCourt" allows users to select the perfect basketball workout based on their body measurements such as arm span or vertical jump capability. Thanks to a cooperation between "HomeCourt" and the NBA, users can even play themselves into the focus of official NBA scouts.
The app supports each training session with audio coaching and feedback. The app records the practice session via smartphone camera. It also keeps exact statistics, such as throwing rates and percentages for different areas of the basketball court. HomeCourt is currently only available for Apple devices.
On second place of the ranking sits the NHL team of the St. Louis Blues. The franchise has innovated fan engagement and intervened it with the possible future of sports betting: The ice hockey franchise polled its own fans before and during running games in the team's own app about in-match occurances like the question, which of the two teams would score three goals first.
Fans who bet correctly collect points with which they can win prizes such as a season ticket. Evaluations by the St. Louis Blues showed that more than 70 percent of the fans reached by the app participated in the betting game more than once.
In third place "Fast Company" sees the company Populous. In 2019, the architectural design firm realized the new, unique stadiums for the English Premier League team Tottenham Hotspur and the US MLS team Minnesota Timberwolves.
Other companies also relevant to the sporting goods industry in the ranking:
The Australian brand Catapult is ranked fifth. It produces wearables for performance measurement. With its world's first football wearable "Playr", an upper body GPS tracker, Catapult promises not only data for performance improvement and training control, but also for the prevention of sports injuries.
In 2019, sports retailer Fanatics secured a franchise deal with the MLB baseball league and US sporting goods giant Nike and can now sell their NFL fan collections and baseball fan merchandise online and in retail stores. Fanatics also entered into a cooperation with the English football team FC Everton and opened new offices in Asia. This puts the brand in eighth place in the ranking.
Nex Team (for a basketball training app with NBA flair)

St. Louis Blues (for fan integration through innovative betting games)

Populous (for new stadiums in London and St. Paul, Minnesota)

DAZN (for growing sports streaming and the US breakthrough thanks to boxing)

Catapult (for the first wearables in football)

Second Spectrum (for data visualizations for NBA and soccer fans)

Premier Lacrosse League (for fair contracts for players and innovative game broadcasts)

Fanatics (for contracts with the MLB and Nike)

AS Rome (for social media engagement for missing children)

IBM (for AI-supported creation of sport highlight clips)