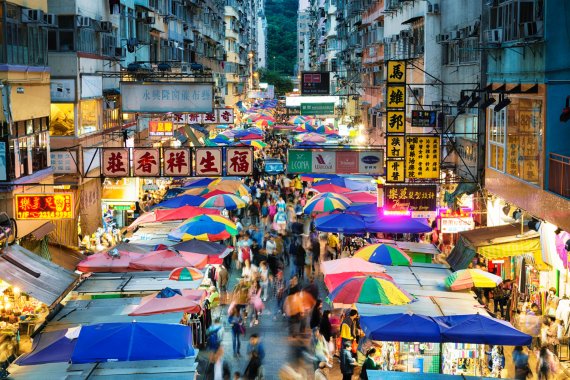 Retailing

Retail in China differs a lot from its European or North American counterparts. About 70 percent of retail is in the hands of the brands themselves (or their local partners). The bulk of sales is generated in the very big cities and primarily in shopping malls and department stores within these cities. The companies represent themselves in these retail outlets through single-branded shops.
In many cases, the selling spaces are not very large. That's why big brands like Adidas claim to have several thousand of their own branded sale points around the country. And in fact, that is true. However, those spaces are not always flagship stores or anything close to that. They are often small spaces, from 50 square meters, stocked by the brands.
Often shopping mall operators do not ask for a fixed lease, but for a commission on sales. This sounds like an elegant way of dealing, but it can be tricky at times: Those who don't make enough turnover might be kicked out before they've even got their feet under the table. Commission is usually 20-30 percent of sales. 
Wholesale trade
Wholesaling is somewhat unique in China, too. The market is covered by regional distributors who purchase the merchandise at their own risk and sell it to retailers or from their own shops. Even large brands like Nike, Adidas or Columbia use such distribution partners. They help the distributors with sales support, for example in-store furniture and other marketing tools to enable local partners to develop their retail network.
Licenses 
It might not be a typically Chinese phenomenon, but it can happen that an entrepreneur enters a new market to find that no-one wants their products. This problem is widespread especially in sporting goods where demand depends quite a lot on taste, fashion and other issues such as fit and size.
That is why many Western brands grant licenses to local partners to enable them to develop their own collections to better meet Chinese requirements. This approach often ends up with product lines which are a mix of international and specifically Chinese items.
Human resources and organization
 Without appropriate personnel on site, it is difficult to develop sensible business relations. When it comes to China, the problems usually start with language, but that is not a typically Chinese problem either. Aside from the recruitment of qualified individuals, it is equally important to hire the best possible company to represent a brand in the market.
This is usually quite difficult when foreigners do not know anyone within a market. In China, trade shows like ISPO BEIJING and ISPO SHANGHAI provide a matchmaking services during, before and after the show to help domestic and foreign business people get to know each other.
Brand portfolio
 The Chinese are usually less sensitive than Westerners when setting up the mix of brands they are to represent in their country. It is often considered rather exotic that one would exclude competing companies whose offer might interfere with one of the other brands they represent. As long as they all sell, it is to the benefit of everyone they argue.
One example is the outdoor company Kailas which distributes three different footwear brands: Meindl, Vaude and its own label. In earlier days, even big players like Nike and Adidas did not have any qualms about being distributed jointly by the same local company. Partially, it is still like that.
Geography 
The sheer dimensions of the country require specific skills to overcome the challenges. Wealth and buying power in China are not well distributed. As a consequence, the wealthier eastern part along the Pacific coast has the advantage of more money and more products sold, but naturally with tougher competition.
In addition, there are higher distribution costs in terms of staff and leases, for example. In the poorer regions of the west, it is vice versa. Newcomers to the market may want to consider entry in the less prosperous provinces, with less competition, to avoid risks and high investments.
Information
...means everything. To gather information, one is strongly advised to travel the country. The best and most efficient opportunities to learn about the specific needs of a market are trade shows like ISPO BEIJING and ISPO SHANGHAI. The winter show in the capital is 10-years old now and usually takes place in February. The summer edition in Shanghai is new; it premiered in early July 2015. Both shows currently offer the best overview of the most important product categories in their respective seasons.