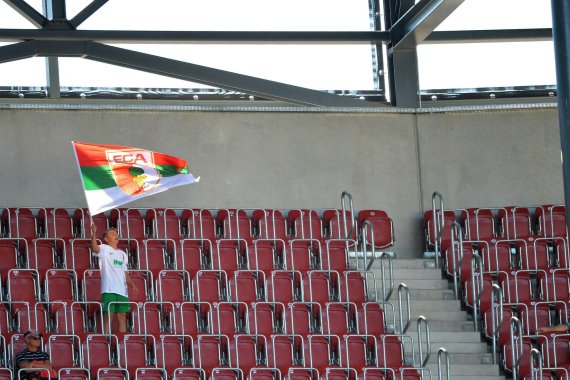 Was this only due to the high temperature? In any case, the Bundesliga did not ignite a soccer fever on the first match day.
The average utilization ratio for the nine home matches was 88.6 percent – only the Allianz Arena of FC Bayern Munich, Borussia Dortmund's Signal Iduna Park and the RheinEnergieSTADION of 1. FC Köln were completely sold out.
The utilization ratio for the entire last Bundesliga season was 92.9 percent.
Here is an overview of the latest news from the soccer business..
ARD and ZDF With Weak TV Ratings at Season Kick-off
The TV viewers also turned away from their favorite sport:
The opening game on Friday evening between FC Bayern and Werder Bremen (6:0), broadcast on ARD, drew an audience of 5.98 million viewers (aged three years or older). This is a decline of almost 20 percent compared to the last season (7.45 million).
The ARD Sportschau on Saturday evening lost 12.5 percent of its audience compared to the previous year. Although top-class matches were on the card, only 3.91 million TV viewers watched the games, after 4.47 million viewers in 2015/2016.
ZDF's "Aktuelles Sportstudio" also saw a significant decline in TV viewers. Only 1.75 million viewers watched the show on late Saturday evening. This is a massive decline of 24.5 percent in comparison to the prior year (2.32 million).
Read about this: Kit sponsorship booms – what the Bundesliga clubs earn 
RTL and Formula 1 on Top
In contrast, RTL – with its broadcasting of the Formula 1 race in Spa – may consider itself as the winner of the TV sport weekend. The number of viewers rose from 4.25 million in the prior year to 4.66 million in this year.