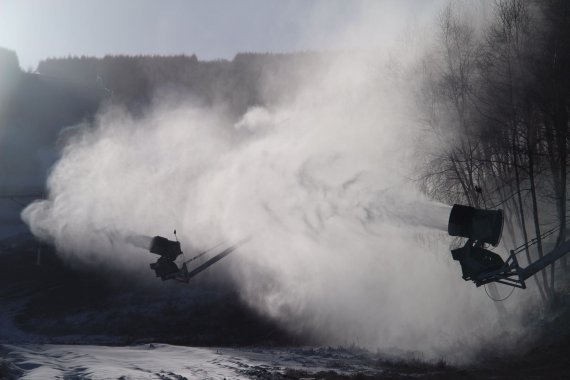 According to the White Book 2016, presented at ISPO BEIJING 2017, the number of skiers and ski vacations increased rapidly in the past year – which also opens up new options for technical outfitters in ski areas. 
During ALPITEC China, ISPO BEIJING's partner trade fair, ISPO.com spoke to Alban Chatain, Export Area Manager of snow cannon producer Sufag, about the boom in China and what differences there are to the European business.
Chatain is an expert in snow cannons at the French MND Group business, which was able to finalize two extremely important projects in China in the last 12 months. At the start of 2016, Sufag was commissioned to equip the pistes in the Wanlong Olympic ski area with 120 snow cannons. During ISPO BEIJING, MND announced that they had been commissioned to fully equip the future luxury ski area Snowland. The deal has a scope of 110 million Euros.
Read here: How the MND Group plans to equip Snowland.
"Personal contacts are important in China"
"Until the 2022 Olympics, China will, without question, remain the largest market. The Olympic effect is driving on business in China at unequaled rates that we will probably never see again," says Chatain: "In Europe, business is principally restricted to maintenance and upkeep, but in China, so many new elements are being created that demand is huge. The Chinese government estimates that by 2022, there wil be approximately 350 million active skiers in China."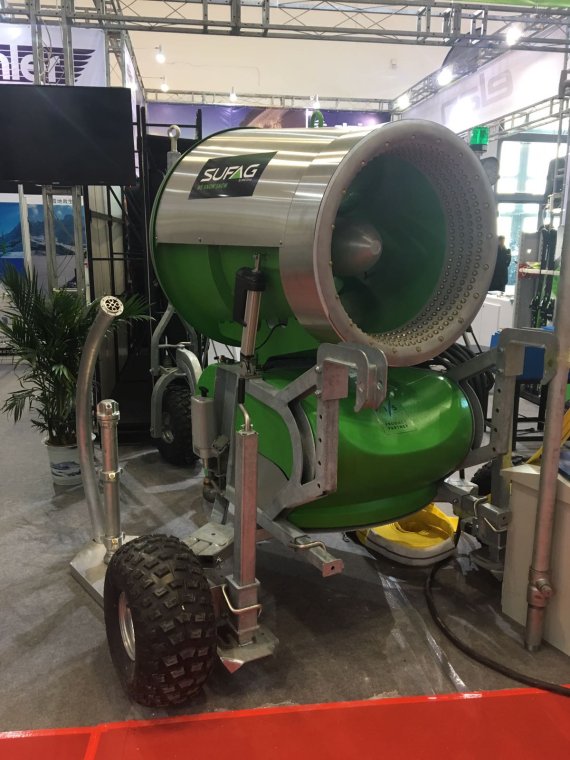 Having equipped nine ski areas, Sufag is one of the big players in China and has opened a branch in Beijing to manage business on site. As is the case in the sports items industry, connections with a Chinese distributor are almost inevitable, as otherwise, entry onto the market and customer acquisition would become extremely difficult. In addition, Chatain values the opportunity to present his business at trade fairs such as ALPITEC China, for "personal contacts and trustworthy networks in China are key."
Read here: Skiing in China: New figures prove winter sports growth
All pistes are often covered with artificial snow
Several differences come to mind for Chatain when comparing China to Europe, the most striking surely being the sheer speed at which things move in China. A project that would take roughly two to three years in Europe (from planning to completion) can be finalized in China in a few months.
"If we sign a contract at the start of January and begin construction in April, then we can cover the site in snow in October," Chatain describes the process: "It is necessary to completely adapt one's parameters in China. In this country, construction time is simply a question of the number of workers, and subcontractors always ensure that there are enough available."
A further unique element that applies especially to the ski area in Wanlong, equipped with 120 snow cannons: the fact that often, the entire piste area needs to be covered with artificial snow. Due to the very cold, dry and extremely windy conditions, in Wanlong, Sufag uses snow cannons with long, pivoting arms in order to be able to cover the entire breadth of the piste.
"We are talking about a constant 14 to 5 degrees Fahrenheit during the whole production process and we are able to significantly expand our output by making minor changes to our software," Chatain explains and adds a further advantage: "By covering the entire site in snow, the operators save themselves the cost of using snowcats."
Read here: Skiing becomes a trend – here is how China's winter sports scene is developing
Sufag: Hotspots in Georgia and Russia?
One matter of expense that does not apply in Europe but does in China is the workforce operating the snow cannons. While in Europe, approximately 90 percent are automated, almost all machines in China are operated manually. A trend "that will probably decline in the coming years, as the Olympic committee will in all likelihood insist on automated snow cannons."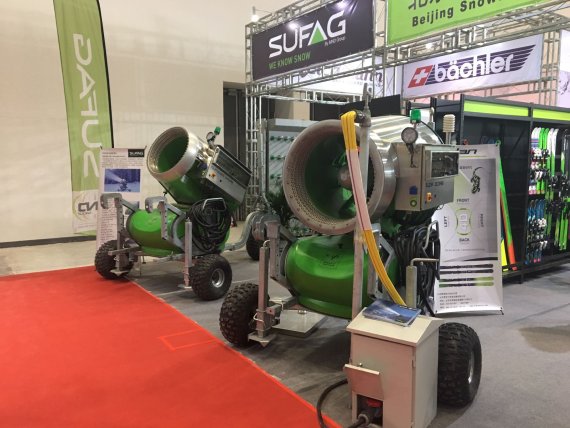 There may still be a good five years left until the Winter Olympics in Beijing, but already everything is being geared toward the mega event. The current situation is rather comfortable for Sufag, as "our advanced knowledge still gives us a significant competitive edge. Until now, I would not describe the Chinese competitors as rivals, but we must remain vigilant. In China, everything simply moves faster: development of new products – even creating copies."
And what happens after the 2022 Olympics when the Chinese market has become reasonably saturated? "There are still a few 'white spots' on the map. Georgia, Kazakhstan and Russia are definitely future hotspots," says Chatain.