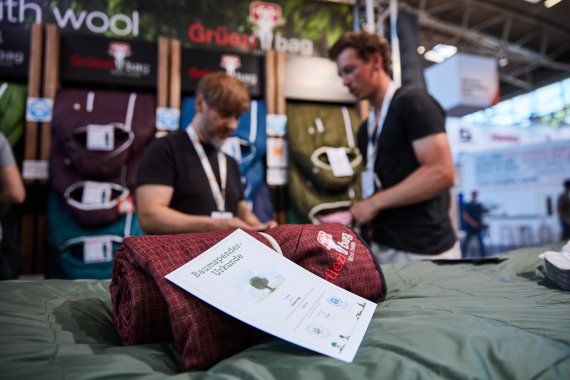 The outdoor industry - manufacturers, dealers and customers? Dig deeper! Nowadays, influencers and bloggers are important multipliers and an opportunity for outdoor brands to get in touch with customers. It comes as no surprise that influencers and bloggers come together at OutDoor by ISPO to network and discover the latest developments in the industry. For instance, this happened at the Blogger Walk on the subject of sustainability.
That's where exhibitors presented their sustainable products at OutDoor by ISPO. From compostable sleeping bags for Grüezi to camping stoves with built-in USB charging station for Biolite. In addition, brands such as Vaude and Adidas answered questions from bloggers.
ISPO.com presents the three most important sustainability learning courses, which the companies attached particular importance to in discussions with the social luminaries.
Antje von Dewitz, CEO of the mountain equipment manufacturer Vaude, put it in a nutshell: "We are part of the problem, but we want to be part of the solution". Of course, she wanted to drive her father's company forward profitably, but not at any price.
On July 13, 2016 Vaude published its Greenpeace Detox Commitment. The company thus voluntarily committed itself to eliminating all harmful substances in its entire supply chain by 2020 at the latest. Vaude is currently working intensively on environmentally friendly products. This includes drinking bottles made of sugar cane as well as garments made of wood fibre.
"I'm really proud of that," says the company heiress. Despite her commitment, Antje von Dewitz is certain that there is no final "arrival" in sustainability. The idea must grow and be improved constantly.
At Adidas, the group met Chief Designer André Doxey. He also thinks a lot about sustainability: "It's simply not an option, it's an expectation".
He talks about his 12-year-old daughter and how important the topic is to her. "It's about the here and now. With everything we do, we take a certain stand," the designer says thoughtfully.
Climate change concerns everyone: from chief designers at Adidas to shop assistants.
Frank Lohse of Brands for Good is firmly convinced that it's most important to inform, sensitize and inspire people. This is the only way to change industry and consumer behavior in the long term. Achieved goals, but also the previous hurdles and challenges must be clearly communicated in order to motivate people.
Lohse looks confidently towards the future: "I notice that many companies are really serious and also share their information with others. Companies are willing to cooperate." After all, the climate crisis could endanger the existence of many manufacturers: "What should winter sports companies do when there will be no more snow in 20 years' time?
He also mentions the "Fridays for Future" action which he praises. The young generation is sending a clear signal. For him, knowledge and education play an elementary role in education. "Children are like sponges that soak everything up. You must be informed. Ideally, the next generation won't know plastic straws."