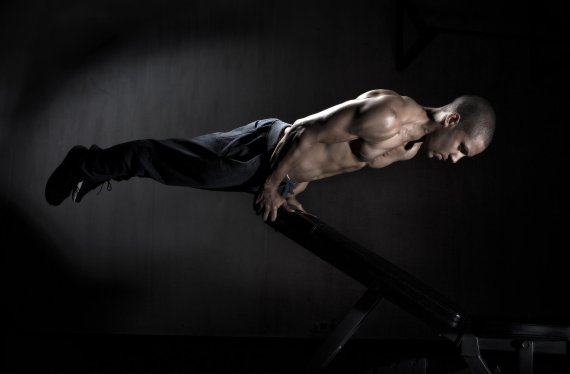 Strength training without dumbbells and weights? With bodyweight training that's no problem. The workout with your own body is highly effective and can be done practically anywhere. Whether on holiday, in the lunch break or in the living room at home - squats, push-ups, crunches and co. challenge the entire body and are not best suited to build up strength and muscles. At the same time, the athletes train coordination, body awareness and endurance.
While bodyweight training was relatively unknown in Europe until a few years ago, the trend suddenly gained rapid popularity, especially due to the US-American "ghetto workouts". Training was done in the city parks of the big cities or in so-called outdoor gyms. Over the years, new sports elements from gymnastics, breakdancing and parkour were added to the "ghetto workouts". Combined, this resulted in a very unique orientation that bore the name Calisthenics and could proudly call New York its sporting home.
Via YouTube and Facebook, bodyweight training became accessible to an even wider audience. The toned bodies of "Hannibal for King," Frank Medrano and many a bodyweight hero of the streets were admired by millions. New social media stars were born and developed a pull for the new self-weight sport, which had an effect as far as Germany, Austria and Switzerland. Today, working out with your own body is a serious competitor to conventional strength training in gyms.
Hardly any strength training variant has as many advantages as bodyweight training. First, the exercises can be performed anywhere with your own body weight. Expensive equipment is not needed. So you save long travel times and are spared from crowded studio classes. The training itself is also completely free.
If you mainly do bodyweight exercises such as pull-ups, squats and push-ups, you train in an extremely functional way and prepare your body optimally for the challenges of everyday life. In contrast to a workout on a machine, bodyweight training always targets entire muscle chains and not just individual muscle groups - so you train the body's natural movement patterns. The deep muscles are also optimally stressed during the exercises with your own body weight. Especially the torso area has a great importance for our health and is involved in almost all bodyweight exercises.
One of the most important pioneers in the success story of bodyweight training is the American Mark Lauren. The bestselling author and former martial artist recognized the benefits of strength training with one's own body already during his time in the military in the 1990s and revised the fitness programs of special units as an instructor. This was followed by book publications such as "You Are Your Own Gym" and "Body By You", which sold several million copies worldwide. Today, the 43-year-old is considered a force to be reckoned with in the fields of functional and bodyweight training. If you are interested in a concentrated load of bodyweight knowledge, Lauren's new seminar programme "Bodyweight Training 2.0 Level 1" is the perfect choice. There are also live dates in Germany, for example in Munich in summer 2016.