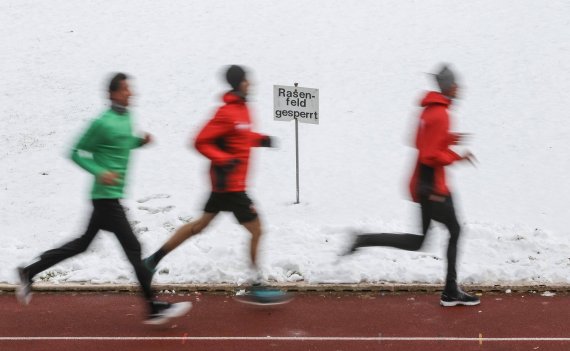 New functional fabrics offer secure protection from wind and rain. Products with the "Gore-Tex" membrane, for example, keep out moisture while allowing sweat to pass through its fine pores at the same time. This guarantees long-term weather protection – and, unfortunately, takes care of any excuses.
Even in winter it is usually possible to continue running. Only temperatures below minus 10 to 15 degrees Celsius or very icy paths could pose problems. Depending on the situation, however, a face mask or special footwear could solve the problem. 
The "three layer principle"
Clothing plays a central role, especially in winter. Catching a chill or getting wet while running can easily lead to the next cold. Good, functional fabrics are the basis for healthy and consistently enjoyable running during the winter. The best way to take advantage of the effects of high functional sports clothing is for all of your layers of clothing to be made of functional fabrics. The so-called "three layer principle" is the best choice: 
1st layer: transfer
The inner layer must transfer moisture away from your body so you do not get a chill. Usually polyester is used for this layer. Sometimes silver ions are also woven in to reduce the buildup of odors. If you wear several layers, then this layer should be tight fitting.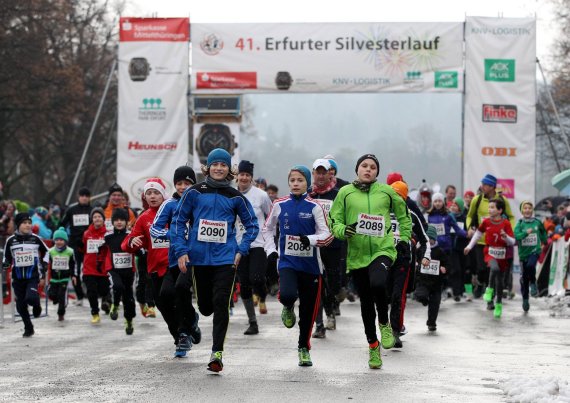 2nd layer: regulation
The second layer should regulate heat as well as transfer moisture away from the body. The tighter the garment fits, the more effectively moisture is transferred away from the body. Polyester fabrics in various thicknesses can be chosen for this layer. You can make your decision depending on your needs and outside temperatures.
3rd layer: protection
The outermost layer protects you from wind or rain. Special material, such as Gore-Tex or SympaTex, is breathable and, thanks to its special composition, protects you from water penetration. But it still prevents you from becoming overheated because moisture is carried out without being let in.
Wind-proofing of functional clothing is usually achieved by laminates that are applied to fabrics. Breathability is still maintained. Here, the most well-known name is "Windstopper".
The right footwear, fewer excuses, fewer injuries
Once the weather turns icy and there is lots of snow, many athletes refrain from running. There really isn't any need to do this, because proper footwear can provide the right amount of safety.
Trail running shoes
Running shoes with strong treads, for example trail running shoes, are ideal in light snow. They give you more traction and therefore more safety with every step. These models usually have a water resistant surface so that your feet stay dry longer. This kind of shoe belongs in every runner's wardrobe.
Shoes with integrated spikes
For more snowy, icier days there are shoes with integrated spikes. Like trail running shoes, the soles have stronger treads with small metal spikes integrated into some of them. These shoes are particularly good for training in deeper snow, but they are uncomfortable on pavement. Icebug, for example, sells such shoes.
"Snow chains" to put on
So-called "snow chains" are another option. These are put on over the sole of your running shoe. The method is simple and flexible since you can put the snow chains on after you have crossed the first few feet on pavement to the snowy path and they can be removed quickly. Running in them may feel a bit strange, but it is still better than not running at all.
Seeing and being seen
Short winter days are yet another challenge. The most important requirement for running safely in the dark is seeing and being seen.
Headlamps
Nowadays, there are a lot of options for small, lightweight headlamps that hardly bother you at all when running and you scarcely feel them on your head. The brightness should be between 100 and 170 lumens, and it should weigh between 100 and 150 grams at most. We recommend choosing a lamp according to your needs and how it feels. 
Reflectors and flashing lights
In order to be seen in the dark, it is essential that you wear clothing with plenty of reflectors and even attach additional reflectors. Reflective vests are available for this purpose, and are often equipped with small flashing lights. Arm or leg bands with lights and reflecting surfaces are another option.
Do you still have an excuse to leave your running shoes in the closet during the winter? If you do, then you should definitely purchase the equipment you need because running in winter is a lot of fun and it helps you establish the best foundation for the summer.