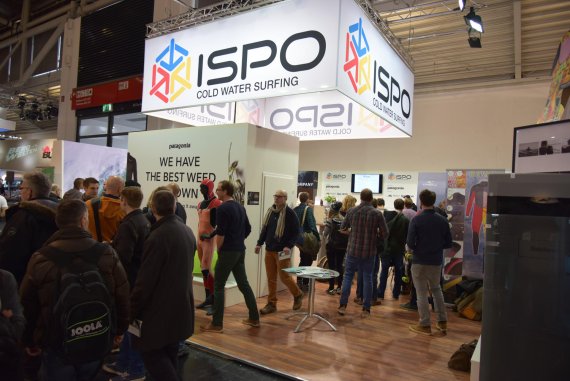 In collaboration with industrial association EuroSIMA and the leaders in surfing media, such as Carve (UK), Blue Magazine (GER) and Nordic Surfers Mag (SWE), the stand will – for just four days – present the only B2B surfing platform in Europe.
Here, brands such as Patagonia, Onda Wetsuits, Wetty, Dry Robe, Lib Tech, Five Oceans, Surf Ears, Restube, Original Lanyards and Westkust will be presenting their newest products and accessories. One highlight of the product display will be the neoprene-free M'S R3 Yulex Front-Zip Full Suit wetsuit from Patagonia, which has been awarded with ISPO AWARD for ECO ACHIEVEMENT – APPAREL.
However, ISPO Cold Water Surfing does not just stand for technical innovative products. Unstard Arctic Surf from Norway, a tour operator that specializes in cold water surfing, will be introducing its camping program to trade fair visitors. Also appearing at the Cold Water Surfing exhibition will be charity Surfers Against Sewage, who are planning to give an insight into the complex issue of marine pollution. Their main focus is on reducing the consequences and taking combative measures.
Presentations from experts and cold water films
With a diverse presentation program and cold water film sessions at the end of each day, ISPO Cold Water Surfing exhibition will be the gathering place for those on the surfing scene. Among others, Aline Bock and Lena Stoffel will be presenting their film project "Way North", in which they travel by motorhome from Innsbruck, Austria, to Lofoten, Norway to go surfing, snowboarding and skiing (Monday, 01/25, 17:00). A presentation given by Hub Hubbard, a product designer for Patagonia, promises to give an exciting insight into the newest developments in wetsuit technology (Monday, 01/25, 13:00)
ISPO Cold Water Surfing presentation program
Sunday, 01/24
13:00 – Cold water travels as a business model / seminar by Ingó Olsen, owner of Arctic Surfers Island
17:00 – Beer & Movies: "BEING THERE & CATCH IT" presented by Léa Brassy (FRA), followed by other cold-water surfing shorts presented by Carve Magazine, Blue Magazine and Nordic Surfers Mag, including "THE FISHERMAN'S SON - by Chris Malloy"
Monday, 01/25
13:00 – Yulex and the future of wetsuit production / presentation by Hub Hubbard, Product Developer of Patagonia wetsuits
17:00 – Beer & Movies: "WAY NORTH" presented by Aline Böck and Lena Stoffel (GER), followed by other cold-water surfing shorts presented by Carve Magazine, Blue Magazine and Nordic Surfers Mag
Tuesday, 01/26
13:00 – Surfers Against Sewage / presentation by Hugo Tagholm, Chief Executive at SAS
17:00 – Beer & Movies: "BJØRNØYA - BEAR ISLAND" by Inge Wegge, followed by other cold-water surfing shorts presented by Carve Magazine, Blue Magazine and Nordic Surfers Mag
Wednesday, 01/27
13:00 – Open Source Surf Products by Westkust / presentation by Robbert Mica, owner of Westkust