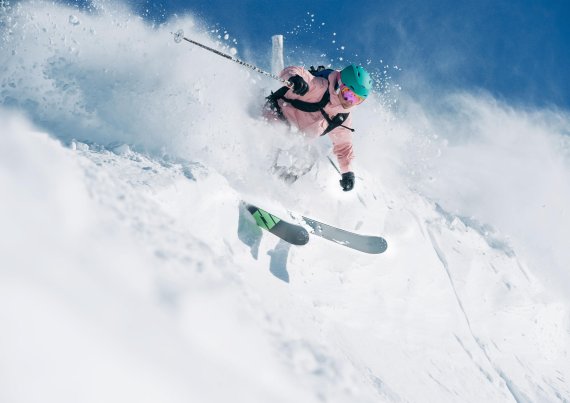 What's important in any case is the appropriate equipment – moreover, there are special avalanche courses on the topic of avalanche safety, which point out typical dangers and show proper conduct off the piste.
Safety when freeriding
In freeriding, safety takes top priority. In critical situations, an avalanche tool is just as useful as an avalanche airbag, which is supposed to prevent being buried in deeper snow layers. A complete safety pack is comprised of an ABS backpack (avalanche backpack with airbag), an avalanche transceiver ("peep" or avalanche beacon), a shovel, an avalanche probe, a first aid kid, and appropriate safety instructions. A freeride helmet and a special back belt for protecting your spine round out the equipment.

Meanwhile, many large winter sports brands don't just offer suitable equipment for skiing off the piste, they also inform and educate in their own avalanche camps. In numerous skiing areas, there are even special avalanche search fields that you can use to help condition your body for searching for avalanche victim. Of course, this also grows the demand for corresponding products by specialty retailers. In addition to protectors, helmets, and suitable apparel, it's primarily a matter of professional avalanche equipment. The customer has the agony of choice: before, there was really only one supplier of such systems, but now several manufacturers offer their own backpacks complete with the system.

Experts give safety tips

How important is the topic of avalanche equipment, including helmet, protector, etc. for specialty retail? Which products are appearing, and what will come out on top in the future?  Here, we'll get answers from Wolfgang Schuster from Mammut, Marcus Wiemann from Grofa, Peter Aschauer from ABS , and Heinz Weidner from Deuter.

What's new with regards to helmets, protectors, and avalanche equipment?

Marcus Wiemann:  Giro is focusing more strongly on MIPS (Multi-directional Impact Protection System) for its helmets, which reduces rotating forces acting on the head in the case of a fall.

Peter Aschauer: You can clearly feel an upswing in avalanche/safety equipment. Regarding the avalanche airbag, the chance of burial prevention is prevailing more and more. The pressure is clearly noticeable on the part of consumers and organizations to close safety gaps, so that an avalanche bag doesn't have to be triggered by the avalanche victim themselves in case of an emergency. As a leading innovator and founder of the original avalanche airbag, ABS is closing this crucial gap optimally with a production-line partner solution. To date, more than 10 percent of avalanche victims with an airbag don't trigger it properly, or even at all.
Wolfgang Schuster: The UltraLight Removable Airbag by Mammut is the perfect partner when you're out in the terrain. It's extremely light and, including the compressed air cartridge, it only weighs 1.72 grams, which makes ski trips much more comfortable without having to do away with a safety plus. It's setting new standards in the subject of lightness for the airbag backpack range.

Heinz Weidner: Deuter is also focusing on lightness. With our new "OnTop Lite" we're namely integrating the ABS TwinBag system into an ultralight backpack. This fast "deep snow buddy" has a 26 liter volume fit for day trips, the proverbial Deuter fit, and all of the features you need off the piste. Smart reductions and the new, ultralight material Pocket Rip Mini 100D get the backpack's weight down to 2.1 grams, without a canister or trigger.

Optimizing the avalanche airbag
Which technologies are setting the tone?

Marcus Wiemann: This winter, Giro launched the first helmet with comfort fit technology with the Range model. Adapting to your head doesn't just take place through the conventional ring system; rather, the shell is divided and thus can be adjusted to optimally fit your head.
Peter Aschauer: Of course, it's ostensibly a matter of the avalanche airbag, and rightly of optimizing the functionality of the avalanche airbag.

Wolfgang Schuster: What's great is that the system can be removed in fewer minutes and can be incorporated into other compatible removable airbag system backpacks without any problems. According to the area of application, you choose a lighter version or a backpack with more pack size – because no matter what, the airbag with the equipment leaves nothing to be desired.

How important is the topic commercially? 

Marcus Wiemann: We're supporting sales with POP materials and posters, by means of which you can make it easy for the customer to understand often very complex technology. 
Peter Aschauer: Of course, a rescue device requires more in-depth consultation than an article of clothing. Training sales personnel is thereby in center stage. ABS is working hard on intesifying end customer consultation, and furthermore on facilitating the necessary financial scope for trade.

Heinz Weidner:  The topic is unbelievably important! Deuter is therefore intensively training its partners, as consultation on site is extremely important in the sports industry, especially in the field of safety. Together with vendors, questions can be answered and eventually, even a test trigger of the airbag can be performed.

Are there special initiatives/avalanche camps that you support as a brand?

Wolfgang Schuster: Even the best equipment isn't exempt from regular training. The necessary hand grips and handling of the transceiver, or the right shoveling technique have to be able to be rattled off exactly in stress situations, without thinking of it. Learning and solidifying handling of safety equipment under competent instruction is therefore of particular significance. Freeriding newcomers and advanced learners alike can find a comprehensive course offering at the Mammut Alpine School.
Heinz Weidner: We don't actually offer any avalanche courses, but we do work very closely with experienced mountain guides who give us helpful feedback on our products. 
This article was provided by the MOC Odercenter magazine.