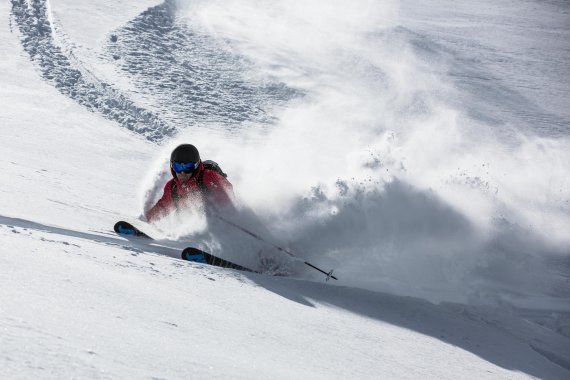 Together with Recco, ISPO organized a workshopexclusively for retailers and journalists, in which an avalanche emergency scenario with multiple burials was simulated. Under the direction of the state-certified mountain and ski guide Jörg Brejcha, the search for buried victims was simulated and practiced in different scenarios.
An artificial avalanche cone created for the workshop ensured that the conditions were as realistic as possible. After the participants had been instructed in the theoretical procedure of avalanche search, four buried persons had to be found: Two persons with avalanche transceiver (LVS device), one person with Recco reflector and one person who was completely buried without LVS or reflector.
The exercise showed impressively how important the correct and routine handling of the emergency equipment is. Especially the joint probing of an avalanche field, in which a buried person has to be searched for completely without safety equipment, was a new experience for many participants.
During the workshop, the participants also had the opportunity to learn how the Recco detector works. During the search, the detector emits a signal that is sent back by a reflector integrated into the buried victim's clothing. Recco reflectors cannot and should not replace the avalanche transceiver. But winter sports clothing with integrated reflectors increases the chance of being found for every winter sportsman in the event of an avalanche burial.