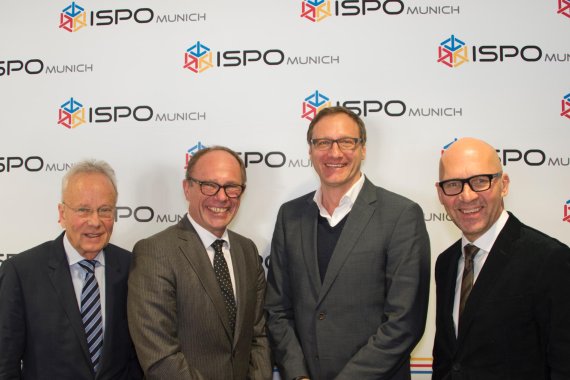 ISPO MUNICH has arrived at Munich's fully booked exhibition center. Anyone who is influential in the global sports industry will be in Munich from 24–27 January. There will be a total of 2645 exhibitors across 16 exhibition halls covering a huge area of 180,000 square meters. 87 percent of these exhibitors are from outside Germany. This year sees the number of exhibitors increase again, with 60 more exhibitors than the previous year. Once again, Health & Fitness area has some exciting additions, with Cosinuss, Medisana, Mizuno and Woodway joining the ranks. In the Outdoor area, one of the newcomers is Polarmond.
"Visiting ISPO MUNICH is a real must for the whole of the sports industry. ISPO MUNICH brings together decision-makers and stakeholders. It also maps out trends and tracks down potential as well as opportunities for development. It is also a place where visitors find out ways of gaining new audiences and increasing sales," says the proud CEO of Messe München GmbH, Klaus Dittrich.
Award for Gerlinde Kaltenbrunner
This is what magically attracts even the most well-known sporting and political giants. On Tuesday 26 January, the extreme mountaineer Gerlinde Kaltenbrunner will be presented with the sports personality of the year award. The sporting achievements of this mountain climber, who was the first woman to climb all 14 8,000-meter peaks without supplemental oxygen, will be honored at ISPO VIP Dinner in the presence of 350 prestigious guests from the areas of business, sports and media. Gerlinde Kaltenbrunner's work in supporting Nepali aid organization Beilngries will also be honored.
On Monday 25 January (1 pm), German Federal Minister for Economic Cooperation and Development Dr. Gerd Müller will report about the development of the Partnership for Sustainable Textiles. Another guest at ISPO MUNICH will be the Vice President of the European Commission and Commission Vice President for the Digital Single Market Andrus Ansip. In 2016, the year of the Rio de Janeiro Olympic Games, other guests include Brazilian Minister of Sports George Hilton and Brazilian Tourism Minister Rogerio Coser.
Increased focus on consumers
Everyone in Munich will be discussing the new trends in the sportswear industry – the ways in which online and offline retail are merging together. "With these changes, the consumers are the real winners. They want to be able to shop via any channel, wherever and whenever they want. They want to be involved in the development of products and they want to contribute their experience and knowledge. The focus is moving towards consumers and they are dictating the pace of change in the industry," says Klaus Dittrich.

He explains that suppliers need to differentiate themselves from competitors and link different channels together: "Suppliers have to be everywhere – on smart phones, on the Internet and in stores. And they need to be able to offer consumers value for money, convenience and excitement in a combination that interests them and entices them to make a purchase."
ISPO can provide plenty of ideas about this, offering perfectly tailored solutions and services for customers all over the world – all year round. In Munich, one such example is the special exhibition in ISPO VISION area about the "athleisure" trend. It presents sports clothing that is suited to everyday life, such as a pair of sweatpants that you could also wear to go clubbing. In the Health & Fitness area this year, the spotlight is on mobile technologies such as activity trackers and smart watches.

Star-studded program
On Monday 25 January, the running shoes symposium will take to the stage, in partnership with Runners World. In addition to this, there is an attractive show program in which various stars will share their experiences, including former weightlifting Olympic champion Matthias Steiner, the German football team's yoga instructor Patrick Broome, and actor and yogi Ralf Bauer. Crowd-pleasing celebrity chefs Surdham Göb, Sybille Schönberger and Roland Trettl will also take to the stage.
B2C area in ISPO COMMUNITY

There will also be visionary presentations in the Outdoor area, in collaboration with long-term ISPO partner European Outdoor Group (EOG). "We are proud to say that the EOG has asked us to officially present our vision for outdoor sports in 2020, as well as ISPO trade fair concept. ISPO hopes to continue to act as a competent partner for the outdoors sector, offering support 365 days of the year. ISPO wants to highlight new possibilities and opportunities on the market – for the B2B and the B2C sectors alike. For the B2C sector, instead of opening the trade fair to consumers, our focus is on ISPO COMMUNITY online platform," says Mr. Dittrich. At any time, companies can use this platform to enter into a dialogue with consumers, opinion leaders and experts.
This year in Munich, awards were once again given to the best products on the scene. ISPO BRANDNEW AWARD for young businesses is celebrating its fifteenth anniversary this year. In the end, the race between 400 entrants was won by ICAROS, a German firm that produces a modern home training system.
ISPO AWARD is also seen as a mark of quality in the industry. The jury awarded the title of PRODUCT OF THE YEAR to the six top product from the ASIAN PRODUCTS and from the following six areas: ACTION, OUTDOOR CLOTHING, SKI, PERFORMANCE, and HEALTH & FITNESS. The ECO jury gave three additional awards for concepts and innovations that are especially environmentally friendly. At ISPO ACADEMY, this year's topic is "Digitization in Specialist Sports Retail."
China's growth market
Another important topic at ISPO MUNICH will be the growth market of China, which offers companies tremendous opportunities. At ISPO BEIJING from 24–27 February, there will be 433 exhibitors representing 590 brands. The exhibition spaces are fully booked.

Additionally, the second ISPO Shanghai will take place this summer. "Companies who wish to gain a foothold in the Chinese sports market should take part in the two-day 'Market Introduction Program 2016' as a way of gathering information and making business connections within a short space of time," Mr. Dittrich recommends. "With their variety of offers and digital services, the three ISPO trade fairs provide companies and brands with expert knowledge about successfully starting out and competing in new markets. They help develop strategies for companies to get ahead of competitors and to become further established. They are the ideal platforms for finding new business contacts and they bring together brands, retailers and customers."