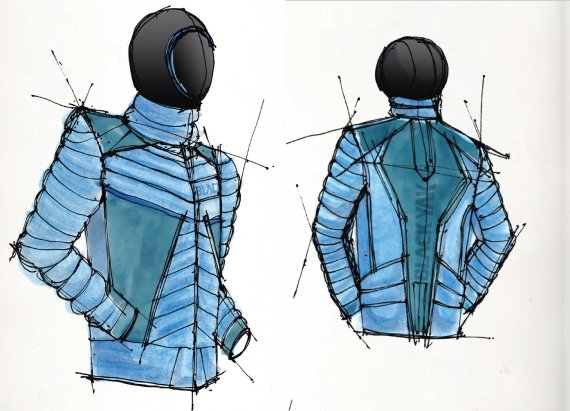 Consisting of 49 pieces, the collection 16/17 was produced in Europe by a product-development team from Switzerland and a design team, based in the headquarter in Munich, developed in collaboration with extreme mountaineers new solutions when it comes to material, construction and look.
BLACKYAK's collection is suited for mountaineers who climb 8,000 meter peaks and also features products for every-day life, skiing tours and hikes.
Colours
Introducing BLACKYAK's new "Global Collection" they have developed a new design identity to best represent BLACKYAK's power and presence towards the European market's taste and style.
Whilst Yajk's are wild creatures – BLACKYAK would be foolish to be too "wild" in their colour selection. For the introduction of the new collection, the designers of BLACKYAK have chosen four strong colour stories, each reflects a rich taste with a twist of sportiveness. Trend colour predictions are to be deeper and fuller bodied.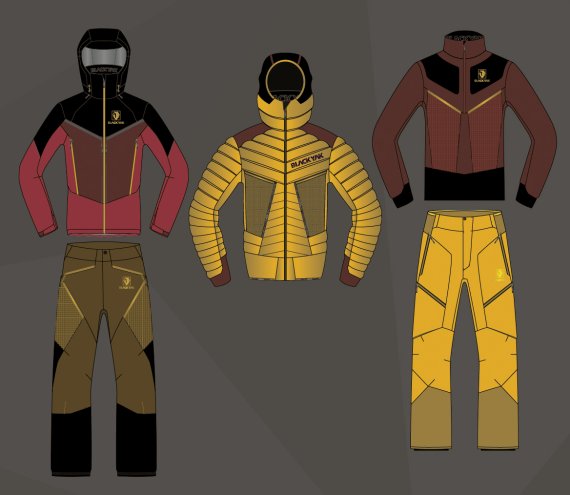 BLACKYAK placed its confidence for the autumn winter 16/17 season with Decadent Chocolate, Golden Nugget, Indian Teal and finally a clean and simple Black on Black story. Those individual palettes have mixed tonally using a high or low contrast, adding finally a spice colour to breathe life into each palette.
Materials
Gore-Tex®
PrimaLoft®
CORDURA®
Polartec®
Kevlar®
Dyneema®
Highlights of the BLACKYAK global collection 2016/2017
Hybrid Jacket
The Hybrid Jacket features intelligent insulation mapping: where the body needs more insulation to stay warm, the insulation chambers have been engineered to create more insulation. The padding level also varies. There is traceable goose down for maximum warmth, PrimaLoft® Gold because of its hydrophobic properties and Polartec® Alpha® for maximum freedom of movement.
The Hybrid Jacket exists for women as well as for men.
Emergency Jacket
BLACKYAK has developed the Emergency Jacket to be as light and packable as possible. There are no pockets, only a built-in elastic tape to keep the jacket as close as possible to your body. The jacket weighs in at only 70 grams (Size M). At this time, there is no lighter jacket with a smaller packing volume on the market.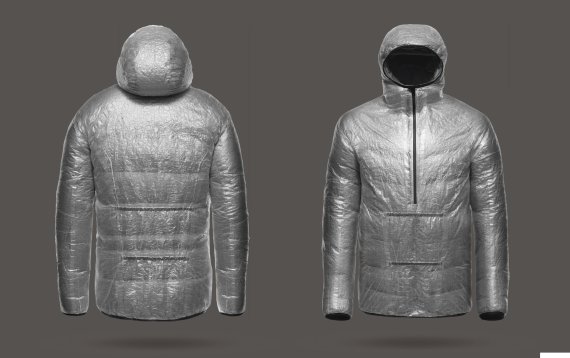 Active Flex Pants
The seams of the Active Flex Pants have been produced using ultrasonic welding technology, making them lay flat so that any kind of chafing or irritation can be avoided, whilst maintaining maximum flexibility. This makes the Active Flex Pants an essential item for mountaineering and ski touring.
The Active Flex Pants exists for women as well as for men.
Hooded Active Down Jacket
The Hooded Active Down Jacket is made for cold conditions and, thanks to its weight of about 560 grams, it is compact and very versatile. In order to avoid thread exposure and likely damage to the construction all threads are located inside. The Hooded Active Down Jacket is extremely reliable and durable.
The Hooded Active Down Jacket exists for women as well as for men.
Lightweight Stretch 3L Jacket
It was the goal to develop a light 3L jacket that offers the mountaineer a maximum freedom of movement. The R&D Team came up with a unique solution: the panels of the jacket are individually engineered and arranged intelligently to the body's shape and movement. This results yet in a simple and light, yet very well engineered garment – a masterpiece.
The Lightweight Stretch 3L Jacket exists for women as well as for men.
Combat Shirt
The Combat Shirt is a hybrid thermo mid-layer developed for use during intense activity, training and expeditions. The back panel is produced using CORDURA®, and has been laser perforated to achieve a maximum of ventilation even whilst wearing a backpack. Large mesh expander chest pockets will store your necessary belongings safely.
The Combat Shirt exists for women as well as for men.