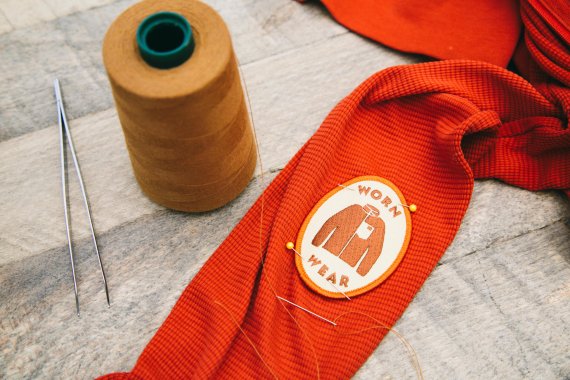 From a cycling perspective, it nearly gets dangerous when the Worn Wear team takes up work on the sidewalk in front of the Patagonia store, on the prominent Leopoldstraße in Munich. Those who bike by see a woman sitting at a sewing machine in a converted minivan, sees a considerably long line of people with outdoor clothes in need of repair in hand, and sees baffled to questioning faces. "What're you doing over there?" asks an older gentleman. "Mending? Ah, I like that! And free at that!"

Not just cyclists are craning their necks at the unusual promotion. For five weeks, two Patagonia teams will be on the road in Germany, Great Britain, France, Italy, the Netherlands, and Spain and are stopping off at 40 locations, repairing clothes for free (and not just Patagonia clothes, at that), and showing how you can manage small repairs yourself. The motto: If it's broken: fix it! That's because: if you use your clothes just nine months longer, you can reduce your CO2, water, and waste footprint by around 30 percent.
Patagonia founder focuses on sustainability
77-year-old Patagonia founder Yvon Chouinard is considered one of the most fervent advocates of sustainable production in the outdoor industry. One percent of the company revenue is donated to environmental activists, as co-founder of the "1 Percent for the Planet" initiative. In 1996, his company switched to organically cultivated cotton for ecological reasons. In a full-page display in the New York Times a few years ago, he called for only buying what one truly needs, propagated repairing, recycling, and reuse, and reselling or passing on worn clothing. In elaborately produced videos, outdoor types talk about why they cling to their half-shredded jackets or pants so much. A Yosemite climber allegedly even answers to the nickname Singer – after the famous sewing machine company.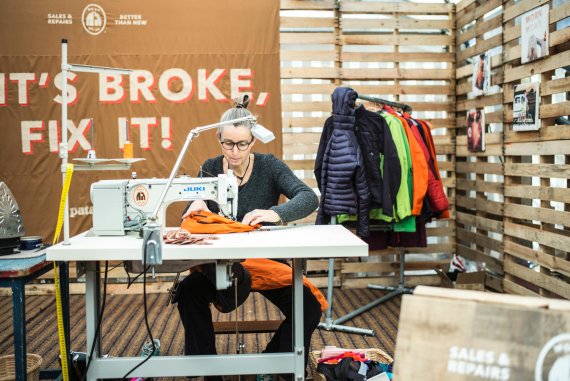 On the Leopoldstraße sidewalk sits Barbara Heinze, at the sewing machine in the workshop van. The skilled seamstress has long since been a part of the Worn Wear team, and today once again has much to do: busted zippers, sickly seams passed over by wiry mountaineers, by an older lady with a "Bye Bye, CO2" bag, a man in a wheelchair also brought a jacket patient. They all follow the Patagonia slogan: "Repair is a radical act! Let's all become environmental fundamentalists!" Much like the call by Rose Marcorio, CEO of Patagonia: "All you need is a sewing kit and some repair instructions. Using our products for as long as possible is the best thing that we as consumers can do for the environment. In extending the lifespan of our clothing through maintenance and repair, we have to buy fewer new clothes and thus avoid the CO2 emissions, waste and waste water that would be associated with their manufacture."
Sustainability: repairing instead of trashing
Certainly in today's disposable society, so much junk has been dumped on the years-long boming outdoor market that the idea hardly occurs to people to maybe repair their old clothes instead of trashing them – a new jacket hardly costs anything. And thus arises a society of consumers, not owners. The latter tend to their products, to maintenance, cleaning, repair, use, and passing on.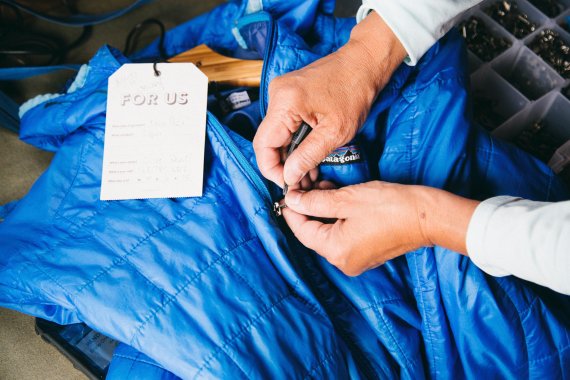 Those who purchase a Patagonia product have a so-called product lifetime guarantee. The employees in their stores are trained to perform simple repairs themselves. You can find more than 40 free repair instructions for Patagonia products on their website. The California-based company operates the largest textile repair center in North America, with more than 40,000 repairs per year. When the Worn Wear bus stopped off in front of the Patagonia store in the New York borough of Soho in 2015, a long line formed on Greene Street, possibly even longer than that on Munich's Leopoldstraße.