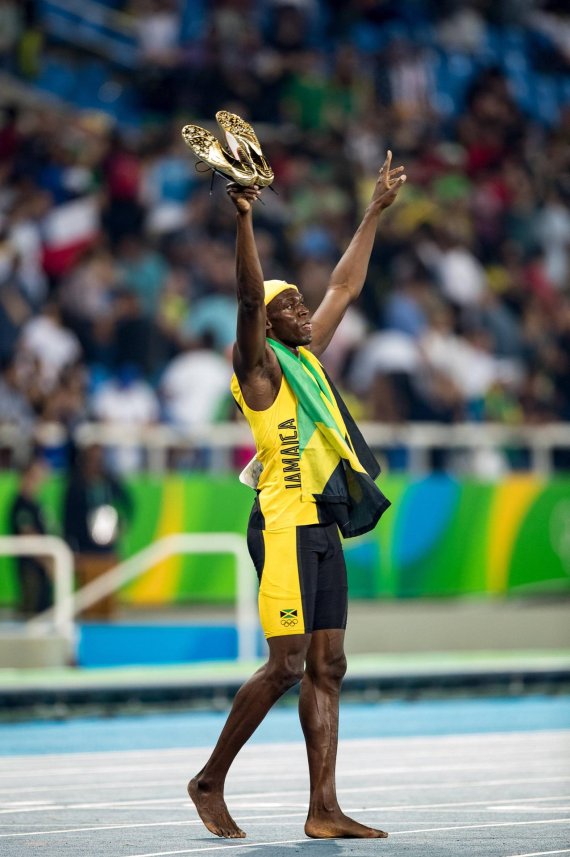 It is 3:31am, extremely early on Monday morning in Herzogenaurach, Germany. But you can hear the celebrations at the Puma headquarters almost as far as Rio. Usain Bolt has won the 100m sprint in 9.81 seconds - it's an Olympic gold for Jamaica and an Olympic gold for Puma.
But even now there's still work to be done. In total, Puma pays Usain Bolt around ten million Euros a year: it's not without reason that it's the second biggest sports brand in the business.
Puma changes its slogan for Bolt
Shortly afterwards Puma's social media departments started working. Posts on the sports brand's Twitter and Instagram accounts read: "When you are @Usain Bolt, you are #ForeverFastest", an alteration of the Puma slogan "Forever Faster".
However, the sports manufacturer's post was without any reference to the Olympics, thereby avoiding problems with IOC lawyers.. So no #Rio2016 and absolutely no #Olympics.
The PUMA Running Facebook page shared a picture of Usain Bolt's golden shoes and wrote: "WHO FASTER? Usain Bolt and #ForeverFastest".
Usain Bolt and Puma engage in some ambush marketing:
And speaking of those golden shoes, Usain Bolt, top earner amongst all Olympic athletes, and Puma used them directly after his victory as a marketing instrument. This is classic ambush marketing,for Puma is not an official Olympic sponsor. Bolt took off his eye-catching shoes moments after crossing the finishing line and carried them triumphantly around the stadium.
The 29-year-old held them above his head: the shoes are clear to see in virtually every photo. This was the perfect advert for Puma, who signed Bolt when he was just a 15-year-old teenager. In Europe, the shoes are of course already available to buy online from the official Puma store, under the "New Arrivals" section. And the cost of owning a pair of "Usain Bolt Evospeed Electric Spike Shoes"? The considerable amount of 130 euros.

Nike, an Official Olympic sponsor and a rival to Puma, will not be happy to see these pictures.
For his second gold sprint – Usain Bolt also wins the 200 m sprint – the Jamaican goes without ambush marketing for Puma. He didn't wear the golden shoes nor did he hold them into the camera after his win.
Rio capitalizes on Bolt's success, while his other sponsors hold back
The organizers of the Olympics were also using Bolt's success for their own purposes. Vinicius, the Olympic mascot, was waiting for Bolt at the finishing line to hand him a miniature mascot toy (pictures of Bolt at the 2009 World Championships in Athletics celebrating arm in arm with the mascot, Berlino, have not been forgotten). Admittedly it only worked on the second attempt.
Incidentally, other global Bolt sponsors such as Hublot, ANA, Gatorade and Regupol did not congratulate Usain Bolt on social media. The threats from the IOC seems to be working.