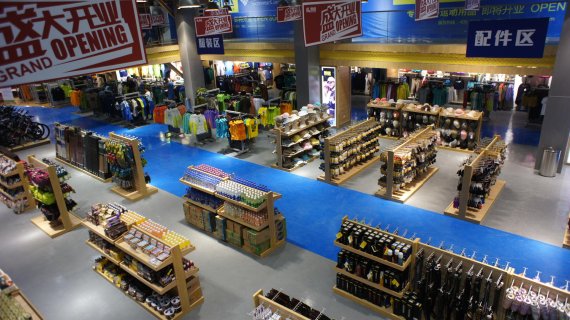 Toread bought a 20 percent share of the specialty chain for RMB 150 million (€22.1 million) at the start of the year. Tutwo's founder, chief executive and shareholder Steve Huang explained the move from a position of strength: Tutwo had become, he said, "the biggest outdoor channel in China".

Therefore, Huang explained, Toread should "nurture a good relationship with Tutwo, to ensure a larger slice of the market." His reasoning cannot be wrong, but the situation would seem to be a little more complicated in a market which appears to moving from boom years to healthy normality.
Thinking big requires big money
The original situation looked like this. Huang launched his business, nearly a decade ago, not as a retailer, but as a wholesaler specialized primarily in supplying smaller shops with branded products (including Toread's). At the point when Toread moved in at Tutwo, Tutwo had some 700 own points of sale and aimed to increase to more than 1,000 shops.

In the meantime, the retailer has managed to hit this ambitious target number of outlets. In 2013, Tutwo opened its flagship store with a stunning selling space of 10,000 square meters. There were and are still more to follow, although with "only" 3,000 or 4,000 square meters.
Thinking big also requires big money. Toread's strategic investment, which Tutwo sees rather as a demonstration of strength on its own side, could also be interpreted as a warmly welcomed –necessary – injection of cash. This may well come in handy in future, when the industry no longer sees the tremendous growth it enjoyed in earlier years.
Toread, for its part, is no small fry either. In the first nine months of the current financial year, its sales increased by 93 percent to RMB 1.94 billion (€286.3 million) compared with the previous year's period. In return, its net profit fell by 18 percent to RMB 146.5 million (€21.6 million), mainly due to increased marketing expenses. So, no sign of a crisis at the country's market leader.
Race for selling space 
Toread may still have a problem. It does most of its business through corporate stores and to a much smaller extent through independent retail. This certainly makes sense for more fashionable items which are distributed in shopping malls and with the help of less qualified sales staff. More technical products, however, require qualified personnel and more effort in terms of advice and service. This is where well-profiled specialty retailers come in.
So far, so good. However, there is one aspect in Chinese retailing which is similar to the situation in Western countries: Independent retailers don't get excited about carrying brands which do most of their business through own stores. In other words, they are to a certain extent the competition. It, therefore, does not come as a surprise that Toread was eager to find a strategic partner in multi-brand retail and found it with Tutwo at last.
When Toread invested in his chain, Steve Huang emphasized that his strategy of independent multi-brand retailing would not change. It cannot be excluded, though, that Toread bought in just as the Chinese outdoor business maybe started to slow down. In the long term, big brands may no longer want to rely on their own retailing power as the major source of income. They might need space on the shelves of independent retailers too.
Larger retailers, on the other hand, are looking, it would seem, for strong partners moneywise to ensure financing for future expansion. Apparently, a leading brand in the same category is a very interesting ally to back the chains' growth strategy.
In early 2016, Tutwo demonstrated that it did not plan to rely on partnership with Toread alone, be it shareholder or not. At ISPO Munich 2016, the Italian Oberalp group announced that it had agreed a strategic partnership with Tutwo for its core brand Salewa. The retailer will act as exclusive distributor and licensee for the Chinese market.
The Toread-Tutwo deal looks like consolidation in a very Far Eastern fashion. As times seem to be getting tougher, it might make sense for brands and retails to cooperate rather than seek confrontation. No matter whether they used to be business partners or competitors. They have been both for quite a while anyhow.