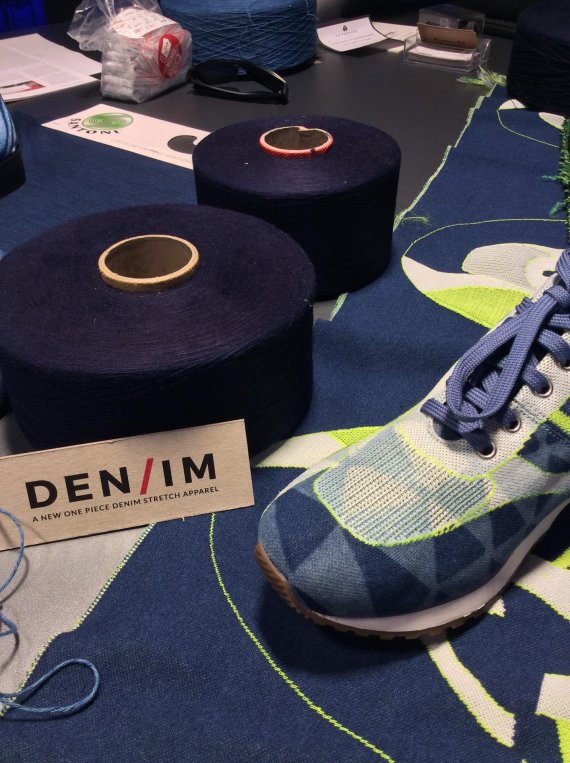 A collaboration between Santoni and three partners from fiber to finish, Lenzing with Tencel fiber, Unitin bringing indigo dyed yarns and Tonello renowned for its water-free finishing has resulted in this unique collection that highlights the potential of the seamless apparel market, not just in comfort fit but through construction and appearance too, in one-piece apparel, with denim being the first offering that brings new innovation to the athleisure market.
Indigo-dyed cotton is provided by Unitin eliminates the need to dye during the garment process, saving much water. Available in a range of indigo hues, different denim tones can be achieved.  "This indigo-based concept, not seen previously on seamless garments, fits perfectly into this rapidly evolving life-style concept. Furthermore  the traditional denim market can benefit from the production and semifinished garments tailored for the fast changing fashion world needs," said Patrick Silva, Santoni Marketing Manager.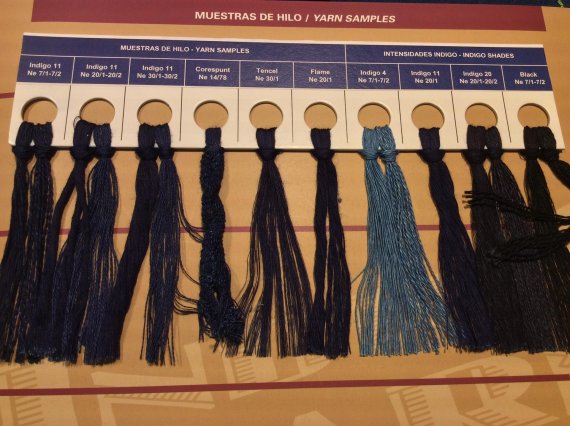 One Stop Knitting and Sustainability

The new DEN/M collaboration is incredibly authentic to look at, with good structure and a much reduced manufacturing time than traditional cut-and-sew jeans and jeggings need, that have previously featured in the athleisure market. It takes only seven minutes to knit an authentic-looking pair of jeans, followed by a super-quick finishings provided by Tonello to get those authentic markings we all love. 
The process saves manufacturing time, but also more importantly saves water, a heavy side-effect of the traditional denim industry, due to using indigo-dyed yarns in the first place, combined with the water free finishing from Tonello and also a saving in energy, resulting in a smaller machine output footprint. This is a perfect fit for ISPO TEXTRENDS allegiance trend for Fall/Winter 18/19 a combination of the natural composition combined with the sustainable aspects in the manufacturing process.
Authentic Touch and Fit
Tercel has rapidly grown to be a key player in the traditional denim sector and has proved to be a perfect companion yarn in the opportunity to push denim, especially for the athleisure market, taking it to new levels. A cellulosic, Tencel brings an enhanced touch, especially when blended with cotton, without taking away any of the authentic look that a pure cotton garment would bring.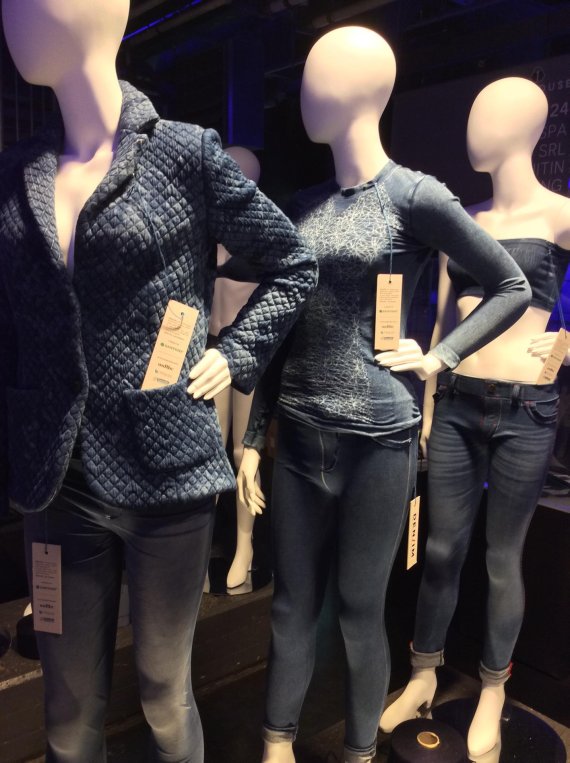 "We are always looking to the future when thinking about embedding TENCEL fiber further into the denim market," said Michael Kininmonth, Business Development Manager for Lenzing, "Having previously worked with Unitin indigo yarns on a flat-bed knit project and knowing the innovative garment processing developments Tonello have brought to the market, the decision to work on such a project was an easy one." 
First Stop Denim. Where to Next?
The brand-new SANTONI machine SM8/EVO4J GG20 has been used  for developing this look capsule collection that offers streamlined through body hugging, comfortable, sporty, chic and trendy denim items from head to toe with an authentic denim look. Additionally, the potential for sports brands is huge, as while denim may be the springboard for this new technology, performance yarns that already exist in the sportswear market could be incorporated in creating innovative seamless apparel.
Additionally, the SM8/EVO4J GG20 offers a double knit function combined with the ability to translate digital graphics into jacquards for apparel and footwear, adding additional detail in updating the seamless garment sector. With the success of DEN/M, the potential in creating new high performance seamless apparel for the sports sector using the latest technology leads to a potentially very exciting future. Watch this space….