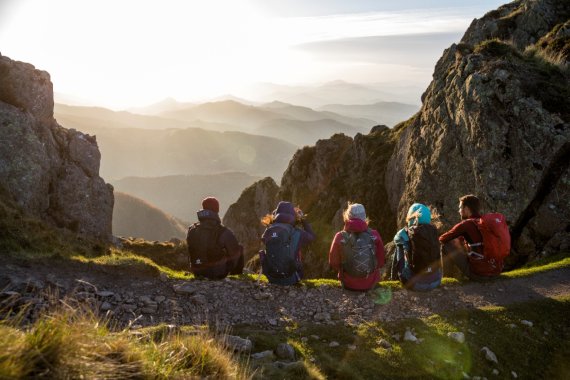 Climbing, hiking, paragliding, or trail running: A day in the Alps can be highly varied. More and more often, a hiking trip is just the starting point for several challenges. The new generation often discovers other exciting outdoor activities on their trip. Hence it is all the more important to be prepared for various sports. With the new 2018 hiking collection, Salomon has the right equipment for multi-sport enthusiasts looking for a change out in the mountains this autumn.
"These days young outdoor enthusiasts say 'I have three hours and want to make the most of it,'" says Damien Chirpaz, Salomon's Global Brand Manager for the Outdoor sector. "So they often combine hiking with other activities to make the most of their time outdoors. They're looking for an adrenaline kick or a new challenge. Our new hiking range has been designed to meet their expectations."
Why not discover exciting via ferrata routes while hiking? Or float freely into the valley like a bird with a paraglider after a day's hike? Studies prove that outdoor sportsmen and women are more and more often looking for several sporting challenges in one day. More than 60 percent of the Millennials want to do more than five different outdoor activities in one day.
The trend towards multi-sport activities in the mountains is also highlighted by Salomon's athlete team – women like Kalen Thorien and Liv Sansoz follow the adventure on different paths, from hiking and skiing in Kalen's case to climbing and paragliding in Liv's. Even freeskiing athletes like Chris Rubens and Greg Hill use their ski-free time to train in different sports – from hiking and climbing to running and mountain biking.
The freeskier and Salomon athlete Kalen Thorien pursues a similar lifestyle. On her travels, the top athlete likes to seek out new challenges. In 2016, she crossed the 435-kilometer Sierra Nevada mountain range on foot alone in 18 days, for a Salomon TV episode entitled "Out in the Sierra." "Travel is my life," explains Thorien.
"It's about searching for new adventures, discovering new landscapes and cultures, and experiencing new outdoor activities." Kalen proves her multi-sport ambition in "The Wanderer," Salomon's new TV episode. In summer 2018, she travelled on three continents to live her personal dream of freedom in numerous outdoor sports. Whether on foot, by kayak, or with a paraglider, in between a round of bouldering before pitching your tent outdoors: with multifunctional clothing, everything is possible – even in one day.