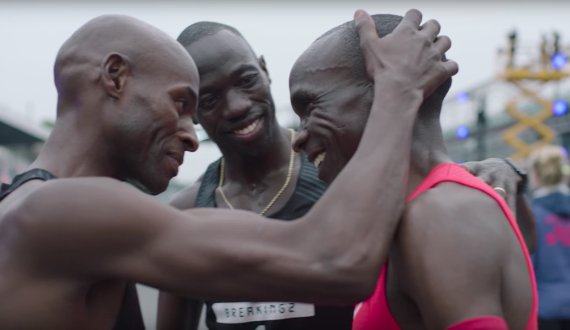 Five million wanted to watch Kipchoge's run
Even if the (unofficial) world record attempt failed, "Breaking2" was still a success for Nike. The live-stream of the run alone had over five million views after two days. And with 2:00.25, the world record attempt only just missed.

Even Adidas congratulated them – the athletes, not their competition Nike. "Congratulations @EliudKipchoge on such a courageous run", writes Adidas Running on Twitter.
For the running experts of the magazine Runner's World, the Nike event was of course a highlight. Those in charge of social media had something to be happy about. The post of the UK edition about the record attempt received very good reactions. 
"Breaking2": Respect for Kipchoge
Arne Gabius holds the current German marathon record with 2:08.33. The enthusiasm for the Nike runner was of course large. Gabius streamed live on Facebook:
With his marathon personal best of 2:13.30, Falk Cierpinski is also no stranger. He even ran with the Kenyan last year
Respect for Kipchoge, most comments on the internet were in agreement on that. However, "Breaking2" itself was judged: A marketing event from Nike that actually shouldn't be taken seriously or a historical sporting achievement?

The media site "meedia.de" described "Breaking2" even before the run as "the largest content marketing story of the year".
Adidas still holds the official record
After all, 2:00.25 is by far the fastest time ever run over a marathon distance. The organizer of the Berlin marathon paid tribute to the run and named it "interesting and forward-looking. We would be delighted to see Eliud Kipchoge at the start line in Berlin on 24 September where he already delivered two extraordinary performances."
It may be exciting to observe the extent to which Adidas will react to the actions of its biggest competitor, which have been successful in the public eye. The official record still lies with the Adidas runner Dennis Kimetto at 2:02.57.
Video: That's how sports product tests work