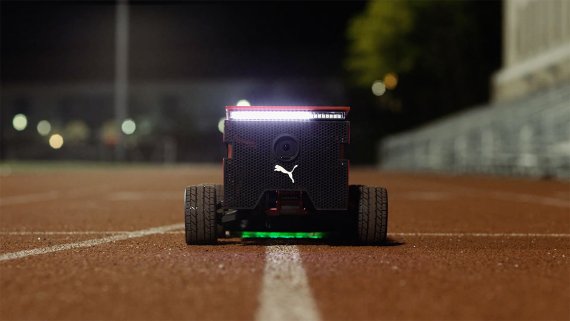 With the running robot BeatBot, athletes now have a gadget that accompanies them yard by yard on the running track. The programmable and self-propelled robot looks like a shoebox on four wheels and reaches speeds of up to 44 km/h. This means that the BeatBoat is exactly as fast as the Jamaican sprint star and world record holder Usain Bolt.
Read more here about how Puma won its legal battle against Adidas
The device was developed on behalf of Puma by the advertising agency J. Walter Thompson in New York. The BeatBot has nine infrared sensors, with which it scans the lines on the running track and can follow these. By means of the wheel revolutions, the speed and distance are determined; several LED lights guarantee that the BeatBot remains in the peripheral visual field. So that the run can be analyzed retrospectively, two additional GoPro cameras -- one on the front and one on the back -- have been placed on the BeatBot.
However, until the robot is available for the mass market, consumers must wait a little while longer. Puma's BeatBot is currently only used by sponsored athletes and teams; however, a more cost-effective version for end consumers is already in the planning stage.
Find out more about Puma's business figures for the first quarter of 2016