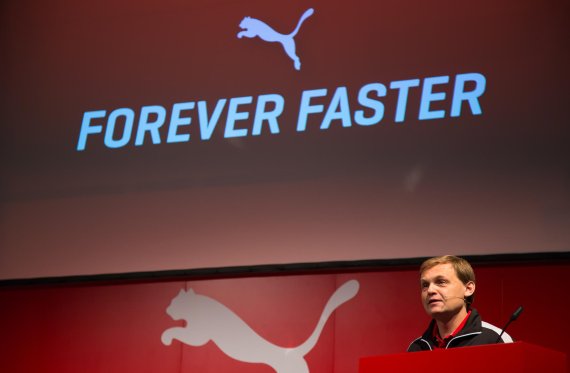 Group profits still decreased from EUR 64.1 million (2014) to EUR 37.1 million. This also negatively affected the share price, which fell from EUR 4.29 in the previous year to EUR 2.48. "The strength of the US Dollar as compared to most other currencies has unfortunately continued to impair our gross profit margin and operating expenses and had a corresponding effect on the EBIT and on Group profits", says Puma CEO Bjørn Gulden.

Sales were significantly boosted in the fourth quarter by the advertising campaign for the range of shoes designed by the singer Rihanna. The marketing investments in the campaign "Forever Faster", however, took a great toll on profit.
The financial result was also worse and was EUR -11.2 million at the end of the fiscal year. In the previous year this was still EUR -6.2 million. The operating profit was affected by negative currency effects from the US Dollar and therefore decreased by 24.8 percent to EUR 96.3 million.
In the fiscal year 2016 a further increase in sales of close to ten percent is to be expected, because it will be a "great year of sport with the Olympic Games in Rio, the Copa América in the U.S. and the European Football Championship in France", says Gulden: Group profits are also expected to increase significantly, based on the sales growth.
Despite the sales growth of a total of EUR 3.4 billion, which corresponds to an improvement of around half a billion Euro, Puma fell back as compared to its main competitor Adidas, which, like Puma, is also located in Herzogenaurach: According to "Handelsblatt" Adidas quintupled its revenue and thereby earned EUR 2.5 billion more. The annual report of the largest German sportswear manufacturer will be published in early March 2016.