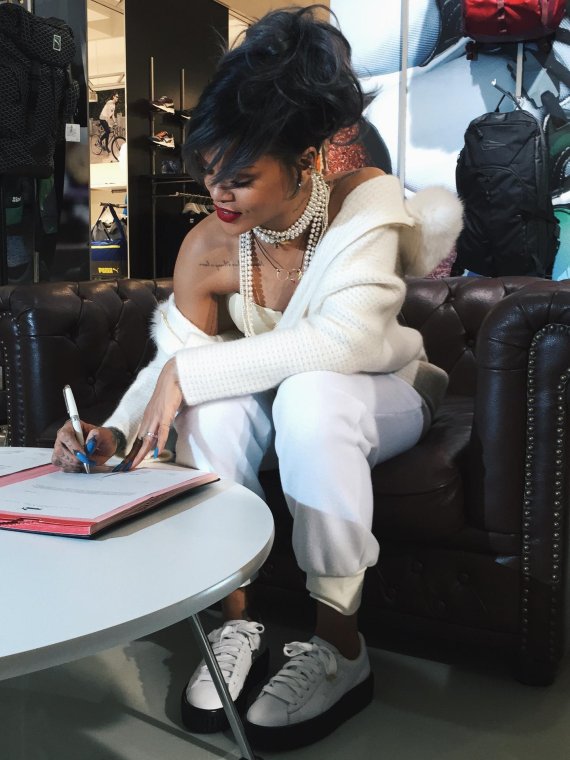 In an interview with the "Süddeutsche Zeitung," the Norwegian above all talked about shifting the female target group back into focus.
"Every time in the past Puma's been successful, it was especially so with shoes and textiles for women. We've neglected them," said Gulden. With pop star Rihanna, who's been enlisted as the new creative director, the athleisure trend is currently to be developed.
Pushing athleisure, thanks to style icon Rihanna
"Rihanna is a style icon, that's why she makes her own creations at our company. Sports and fashion blend for her, as they do for many women. Women today dress in such a way that you'd have no idea whether they were headed to the gym or the office. In this respect, leggings are the new jeans."
Learn more about the athleisure trend here.
For Gulden, this leads to the conclusion, "Sport is also lifestyle."
Of course, athleisure isn't just a trend that Puma is discovering for itself all by itself, although the competition from Nike, Adidas , and Under Armour seems to leave Gulden relatively cold. "What's important is that we satisfy our retailers and our customers, then growth will come on its own. Under Armour is strong in America, where they come from. But in their brand essence they're very similar to Nike. That's not our way."
No showdown with Adidas
A showdown for the DFB jersey with Adidas and other applicants is likewise far from Gulden's mind.
"Of course we had a look at it. But the price for the total package is getting too high. Adidas has the documented right to overbid others, anyway. We're focusing on other priorities to employ our funds," said Gulden in the SZ interview, and would much rather refer to the Leicester City fairytale in the English Premier League: "The demand for jerseys has now risen fifteen times over. The fans like those kinds of stories: an underdog from the very bottom suddenly goes straight to the top and manages the impossible."