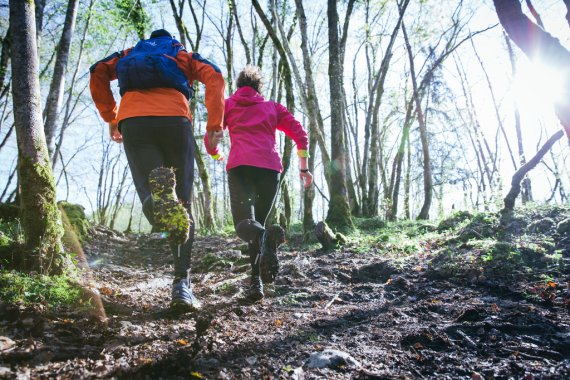 Salomon is just launching a social media campaign to promote its athletics range. From the company headquarters in Annecy, President Jean-Marc Pambet explains in an ISPO.com interview why Salomon has moved so far from its original product (ski bindings) and shares his thoughts on the outdoor market with us.
ISPO.com: Monsieur Pambet, you have been working here for over 30 years. What brought you to Salomon?
Jean-Marc Pambet: I hail from Paris, often came here to ski, and at some point I had to choose between two jobs: Hewlett-Packard or Salomon. I think I made the right decision.
You worked together with Georges Salomon before his death at the age of 85 in 2010. His mantra was: "I am fascinated by what I will do tomorrow." What kind of a person was he?
He was a very demanding, very energetic boss. Always testing, tinkering, always in tune with his products and his clients' needs. Not a businessman at all. The shoes just have to do their job. At weekends, he would always try out the new prototypes, so that on Mondays they could be optimized at work – and at the same time he would also improve the company.
The best sports products will be presented with the ISPO Award: Submit your top sellers and innovations here. >>>>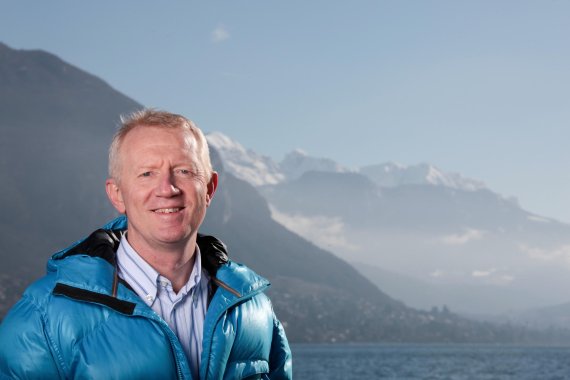 The future of Salomon: "Tailored to our consumers"
What is your favorite Salomon story? What convinced you to stay with the same company for so many years?
No doubt: the company's team spirit. I had fantastic bosses, who also gave me the opportunity of taking responsibility in divisions such as sales and product and business management. It was and remains wonderful working for a brand that seeks to cross boundaries, that doesn't ask 'Why?' but 'Why not?'.
Salomon will celebrate its 70th birthday next year. How has the brand developed? After all, its new slogan is 'Time to play.'
The brand's future depends on us remaining in tune with consumer needs. And at the moment, these are: walking, running, and gliding over the snow. Our buzz words are: innovation, performance, quality – and fun. That's our positioning now. We want people to enjoy themselves outside, to connect with nature. That's going to become even more important in the future. And in order to enjoy themselves outside, people need good equipment.
In the 70s and 80s, Salomon specialized in ski bindings. The 727 was the Ferrari in the world of bindings. How much turnover do these bindings generate now?
Wow, no idea. However it is definitely less than ten per cent. Our brand has grown enormously and has morphed into an outdoor one.
What standing does Salomon have in the current market?
Around the world, we have approximately 2800 employees, a turnover of just over 800 million euros – that sets us nicely in the league of big brands such as Adidas, Nike, Under Armour and the so-called co-brands. We supply equipment, footwear, and clothing, provide our customers with everything from head to toe, from their hat to the tip of their skis. We are, so to speak, one of the few multi-discipline specialists.
Since 2008, Salomon skis are no longer produced in France. What area currently demonstrates the strongest growth?
No doubt: Footwear. Then we have winter sports (traditional and cross-country skiing), but that sector will soon be overtaken by clothing. In general, we develop all Salomon products here in the Annecy Design Center, with the help of approximately one thousand employees. We produce, develop, design and test all our prototypes here. Our hardware is produced in Eastern Europe, our footwear in Asia.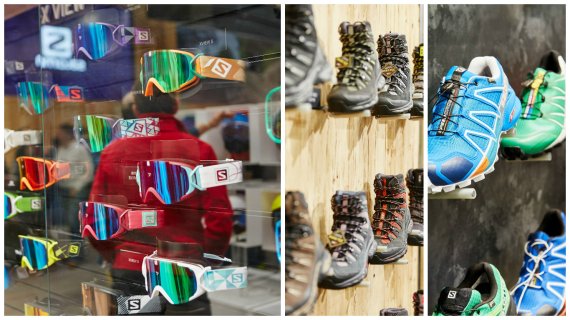 Key word B2C: How are things looking in terms of online shopping?
Since 2005, we have opened stores in almost 190 countries across the globe – and will soon have another store in the heart of Paris – but we have also installed an IT department. That's because we know we have to be in tune with our consumers. Customers demand to be able to connect with our brand at all times, including via their iPad and smartphone. Our brand needs to become a stronger public presence. Salomon remains a secret for many people. We want to change that.
Salomon athlete Anna Frost in Papua New Guinea.
How important are testimonials such as those by Kilian Jornet, Emelie Forsberg, or Anna Frost in this respect?
The athlete community is very important for us. Through them, we can also reach out to children and young people in the sports clubs. In addition, these top athletes help us develop future products, they are the first to test the prototypes.
Let's take Kilian Jornet as an example: In his home country Spain he is almost as famous as footballers from Madrid and Barcelona.
Yes, it's incredible. He was one of the first to put trail running on the map – and now he has helped catapult outdoor sports into a dimension nobody would have believed possible in the past. And not only in Spain. His fame extends to countries such as China.
How did he get in touch with Salomon?
He was discovered by one of our employees in Barcelona 10, 15 years ago. Back home in the Pyrenees, Kilian was actually a ski tour hiker. He only got into trail running to regain his fitness after a knee injury. After his rehabilitation, he took part in some races just for the fun of it. Not only did he win them, he did so with a huge lead. That's how his unique career began: it was completely unplanned.
Emelie Forsberg unites skiing and outdoor sports: An ideal candidate for Salomon
A partner of the company, Emelie Forsberg (one of the world's best trail runners and ski mountaineering) is very active on Facebook and Instagram. How important are social media?
They are of course very important to us. We don't create any TV adverts. People who watch TV aren't looking for outdoor brands. Every one of our athletes has their own way of presenting their sport to the public.
Yesterday a short skimo race to push a little in the uphills, and today a super beautiful 28 km trail race! Good feelings! 1 st place in both ;) Photo: Ariño Visuals & Ski & run

Posted by Emelie Forsberg on Sunday, November 20, 2016
Offline, the ISPO trade fairs in Munich, Shanghai, and Beijing offer large publicity platforms. 
Each year those are some of the highlights! All big companies come together at these fairs, which is important because we need a common denominator. The entire outdoor industry is united by one goal: facilitating more outdoor activities! The result is that working together makes more sense than to fight among ourselves. Of course we are rivals, but first and foremost we are jointly in responsible for the future of the great outdoors.
Salomon is a regular winner at the ISPO Awards. What does this award mean to you?
It means being recognized by the industry for the job our brands do. So it is more important on an internal scale, but important nevertheless, especially for all those involved in developing the brands and products. It is a recognition that is definitely worth supporting. 
"Getting our youth to put their smartphones away"
Where do you see the outdoor industry in the coming years, after so many years of growth?
Of course their are limits, we have now experienced our most rapid growth. We need to organize ourselves in such a way that we can maintain a 'normal' level of growth. The question is: What does 'outdoor' define? Where does it start? 20 years ago, it meant climbing and mountaineering. And today? For me, road running in the city counts as an outdoor activity. Outdoor means: "Get outside!" Most important of all is getting our youth to put their smartphones away and leave the house. That's the history of our new slogan, 'Time to play.' It doesn't mean "Get outside and be miserable", but rather aims to motivate people to have fun. 
What do you think will be the next big outdoor thing? Perhaps SwimRun?
That's certainly an exciting activity. It's the principal of the triathlon, transferred onto the outdoor mentality. Multi-discipline sporting activities are definitely on the rise. It is precisely young people who want to do multiple things at once: run, swim, paddle – so why not?
Are your products able to unite these sports? Or maybe they shine in only one of them? Then apply for the ISPO Award 2017 here>>>
Salomon:
In the mid-60s, Georges Salomon – son of the company's founder – invented ski safety bindings. After a moderate spell of success as part of Adidas, the brand now belongs to the Finnish company Amer Sports and has expanded beyond the ski industry to add outdoor sports to its portfolio. You can find more information on the sports equipment company here.