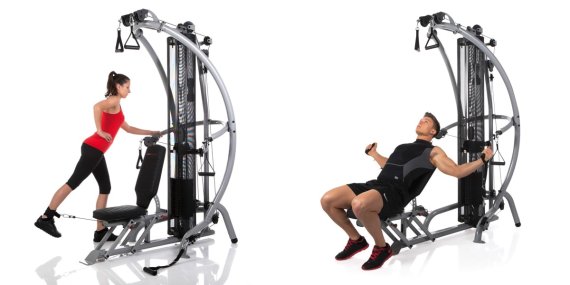 Everyone knows the health benefits of strength training. Not only does it increase muscle strength, it stabilizes the entire body, forming the basis for good posture and right movements, and protecting from injury. At the same time, strength training increases life expectancy and has many benefits for everyday life. It even has a positive effect on mood.

Want to gain the benefits from strength training too? M1 is a great choice >>>

M1 Sets New Standards for Multi Gyms

Going to the gym is not for everyone – "but it isn't necessary either," says Alexander Löbich, sports therapist and fitness expert at Hammer Sport. "The M1 offers everything necessary for a comprehensive training session and is a lot of fun too!" The product developers have worked long and hard on the innovative new fitness station. The process has resulted in a multi gym that is remarkably easy to use, produced to a high quality and incredibly space-efficient. It comes in a sporty design and does not need to be anchored to the wall or floor.

The M1 has two cable pulls with six cable outlets and an adjustable bench that can be used flat or on an incline. There are over 50 standard exercises that can be performed with the machine. The cable pulls give more freedom for a bigger movement amplitude when training, which means that more muscles can be trained at the same time. "Long cable pulls allow all sorts of exercises, and therefore the M1 can be used for sport specific exercises as well as everyday strength training", says Löbich. All your training needs are covered.

Training on Equipment Like the M1 is the Foundation for a Great Body

Yes, there are a variety of training forms that can be done at home without any equipment, or just with small tools like resistance bands and weight bands, but "if you want to get a great body in just a short amount of time, strength training using equipment must be the foundation and the M1 is the answer." The fitness expert is convinced: "It will develop and maximize your muscles." Particularly as, with the help of the cable pulls, the M1 makes functional training – training with complex movement patterns – possible. This is also the advantage over classic strength-training machines, which don't come with cable pulls.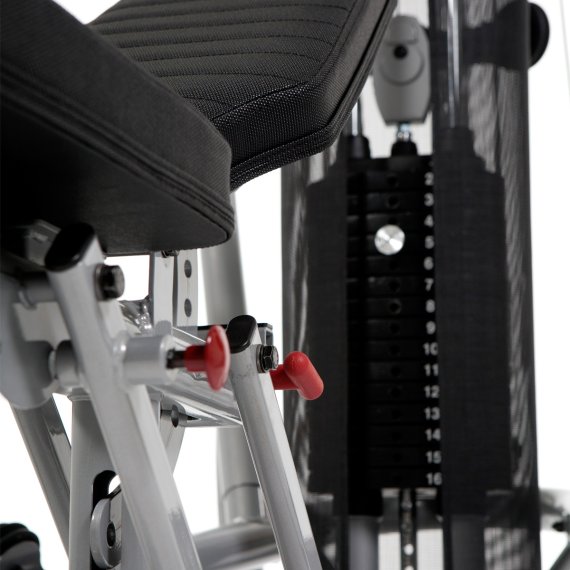 But getting a great shape in just a short period is only possible with a strength equipment like the M1. Complex movement patterns are possible with the help of long cable pulls, those usually aren't included in classic strength equipments. Located on the top, middle and bottom a challenging training session is possible. Stand up exercises are training the supporting parts of the musculature. "The M1 is the best alternative to a free training", Löbich says
No More Muscular Imbalance

A further advantage of the cable pulls is that alternate training of the left and right legs or arms prevents muscular dysbalances. "In many sports, the burden all falls on one side of the body," says Löbich. "For example, in golf or tennis. This can be compensated for using the M1 – the weaker side of the body can be trained bilaterally, serving to work against muscular imbalances in the body." This also applies for the time periods after heavy injuries.

An Overview of the Advantages of M1 Training
Comprehensive training is possible – all muscle groups can be trained
Anyone can use it – no great prior knowledge about training is needed
Circuit training means training is of a higher intensity and takes less time
The M1 takes up very little space
All needs are catered to – for beginners to experienced athletes
Easy to switch from one exercise to another, providing for effective training sessions
Longer motivation in training sessions, as exercises can be varied
"The M1 is the Standout Option among Fitness Stations"
A further advantage of having the M1 is the great flexibility. A quick workout can be fitted in before breakfast as well as after work. Time consuming breaks between the exercises are no longer necessary by using the cable pulls. Long circuit training with a considerable cardio effect is also possible. "The M1 allows me to do a complete body workout in just 30 minutes", says Löbich.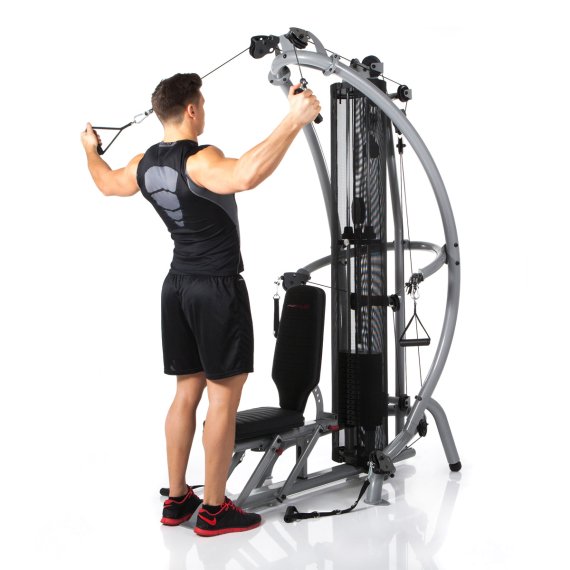 "From beginner to experienced athlete, the M1 offers comprehensive training sessions suitable for anyone," says Löbich. "I would say that the M1 is the real stand-out option among fitness stations."