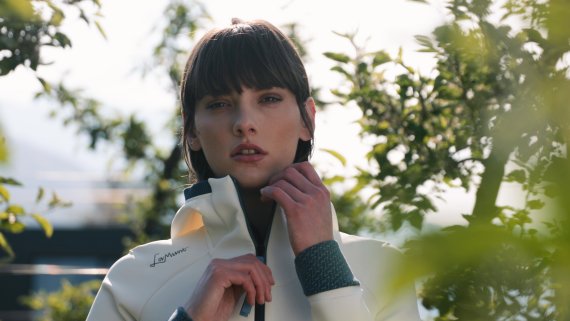 The initiator of LaMunt is Ruth Oberrauch. She has been working in the family business of her father, Heiner Oberrauch, since 2010. We are not talking about just any small business. We're talking about the Oberalp Group, which includes major mountain sports brands like Salewa, Dynafit, Wild Country, Evolv and Pomoca. So the Oberrauchs know what matters when it comes to outdoor brands. LaMunt now joins this portfolio as the group's first brand to be developed from scratch, "in-house" so to say, and specifically for women. It was born out of Ruth's own perspective on mountain sports. Function is important, but a certain finesse and aesthetic must be just as important. "I often missed the female interpretation," says Oberrauch. LaMunt now does that differently.
Ruth Oberrauch, founder and brand manager of LaMunt sees confident, sovereign and strong women in her clothing. These women are nevertheless feminine and have a strong love for the mountains. The target group is women who have just discovered the mountains or are in the process of discovering them, but also women who have long loved to spend their time in the mountains. Because that's exactly what the brand focuses on: it wants to inspire women to spend time for themselves in the mountains and to be with themselves. Oberrauch refers to this as "Mountain Me-Time", on which the brand wants to accompany its wearers.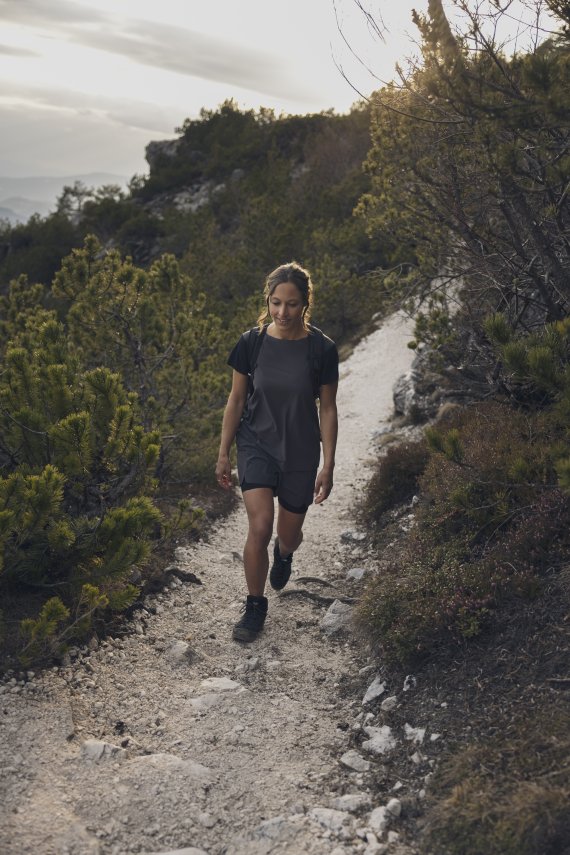 The mountains were long considered a male domain, but have now long ceased to be a male, purely performance-oriented playground. They inspire and excite women just as much. Even if women often take a different approach, focusing less on competition and performance and more on the experience of nature. Nevertheless, many mountain sports brands still tend to be male-dominated, even if they naturally carry women's collections.
Yet women are just as independent and self-determined in the mountains and place great value on fit and design in clothing that nevertheless fulfils its function, for example protecting against wind and weather. LaMunt wants to address these specific female requirements in mountain sports.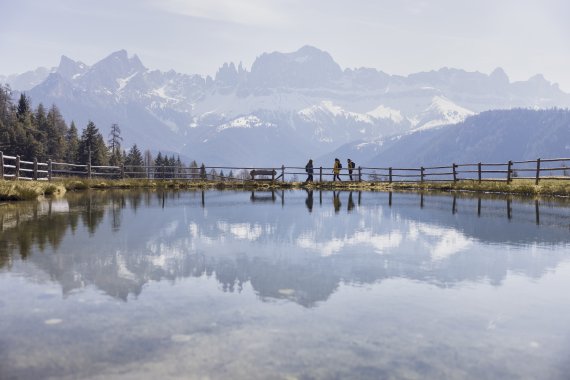 The core team of LaMunt consists only of women, but has also not only let their own wishes and ideas flow into the new collection. In a conversation with 25 mountain-savvy, but also different women - from mountain fanatics to occasional offenders - pain points were discussed, i.e. problems that the athletes have had with clothing so far. Many things came up that also coincided with founder Ruth Oberrauch's own thoughts. Specifically: The lower back, a rather sensitive area for women, where there is often a draught if a jacket is too short or trousers are cut too low. Or the jacket that rides up or bulges on the hips because it is cut tighter there or has an integrated elastic band. The products in the collection were then named after the women who shaped and inspired the respective piece, for example, who gave the impetus or idea for a particular detail or feature.
But what exactly does LaMunt's first collection look like? Thoughtful details, little surprises and clever customization options can be found in all products. The jacket becomes a vest, zippers and drawstrings make the products customizable. They can be individualized by the wearer, for example by a tightened cord or a folded sleeve that reveals a pattern.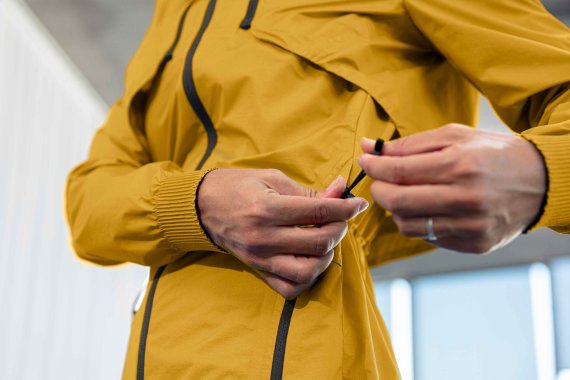 The design of the collection is based on wings, which are intended to ideally hug the female body with their curved and rounded shapes. In doing so, completely different female shapes and bodies are included: For example, the Linda Jacket can be made more or less fitted by a drawstring, and to prevent tops from bulging around the hips, zippers are integrated into the sides.
Overall, the garments for spring and summer 2022 have earthy tones, with blues and yellows, black and white also making appearances. "Nuances rather than contrasts," is how LaMunt Product Manager Linda Ceroni explains how the colors come together in the collection. The collection is feminine, but not girly. The design is not loud, but still sophisticated, sometimes only at second or third glance.
In addition to the brand's explicitly female perspective, LaMunt also focuses on the use of sustainable materials. "I think (...) it's no longer about buying a product, it's more and more about which value maintenance, which vision do I want to belong to?" says Ruth Oberrauch. In her eyes, with a new brand launched in 2020, there should really be no discussion at all about whether sustainability issues are being addressed. As a member of the Fairwear Foundation all LaMunt products are manufactured in factories that have already undergone an audit regarding fair working conditions.
"I think (...) it's no longer about buying a product, it's more and more about which value system, which vision do I want to belong to?"
Ruth Oberrauch in the Sport 1 podcast "Spuzziness".
Ruth Oberrauch mentions chemical management as a second important point. Especially with technical, for example water-repellent products, it plays an important role in terms of environmental impact how materials are processed. All materials used are therefore PFC-free. Throughout the entire collection, a lot of recycled materials or, where possible, natural raw materials such as merino wool or Tencel, a fiber made from wood, are used. For example, recycled cashmere is used as lining for padded jackets in the collection. For this purpose, production waste is collected and processed into new material, which is then used as a warming layer in LaMunt jackets. "We're also already dreaming ahead and working on themes of how we can turn such waste materials into other products still."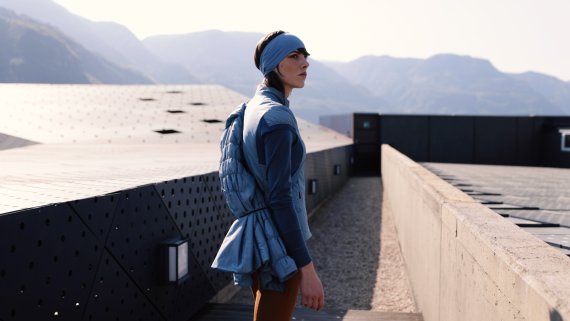 "La Munt" means "The Mountain" in Ladin. The perfect word for the new women's outdoor brand from Oberalp, because in the ancient Romansh language spoken in the Dolomites, the mountain is feminine. Sounds simple? But it wasn't quite. Ruth Oberrauch thought back and forth about what the new brand could be called, playing with different terms, but nothing really fit, because it had to be feminine but at the same time still reflect the rough and edgy character of the mountains.
"Why don't you just call it La Munt?" was the suggestion from Ruth's grandmother, who is from Val Badia, grew up speaking Ladin and who Ruth also describes as one of her most important role models. With that, all criteria were met and LaMunt was born.
Ruth Oberrauch gives deeper insights into the development process and structure of LaMunt in a conversation with Kim Scholze in the podcast "Spuzziness" from Sport1.