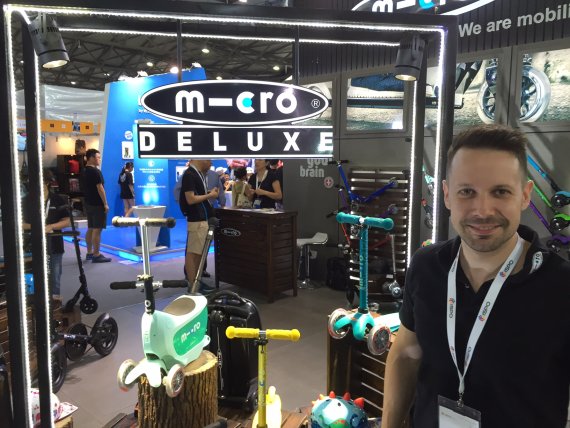 "We have quite a good number of retail customers around the country", says Julian Van Gemeren, chief operating officer at the Chinese subsidiary of the Swiss company. According to Van Gemeren, there are 1,500 points of sale which sell Micro Mobility products. But there is an imbalance between the various distribution channels: 60 percent of the sales are made through retailers of children's goods, 30 percent through bike shops and just 10 percent through sporting goods stores.
Underrepresented in sporting goods stores
This derives partly from the specific retail structure in China. There are only a few outlets which offer the full range of sport equipment. Among the larger retailers is Intersport – and naturally Décathlon. It was only last year that the latter moved into the scooter business with its own exclusive products. However, they are in different league when it comes to pricing. A Décathlon product costs the equivalent of about 25 euros, while Micro products are on the market with a price range from around 100-1,000 euros.
For this reason, Van Gemeren cares little about the competitor from France. "Those customers would not buy products from us anyway. Those customers are out of reach for us", the Micro executive believes.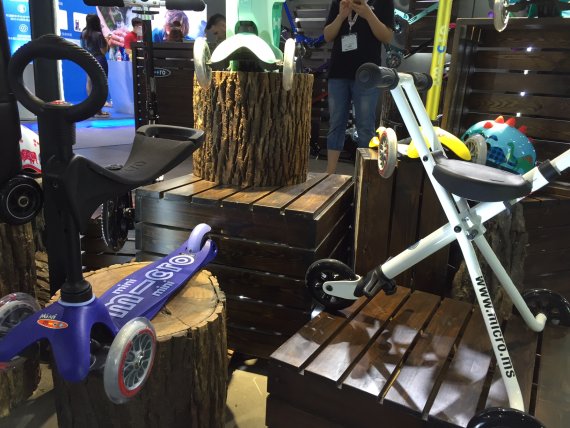 New trends in mobility
The Swiss see potential for their product thanks to changing trends in urban mobility. Many Chinese can no longer afford the high rents in big cities. They have to commute from farther afield to get to their workplace every day, sometimes two hours one way. Since the subway station is often a considerable distance from the workplace, people have to rely on light, small devices for transportation. "And bicycles can't be transported on the metro."
Bikes are a distinct problem in China – notably e-bikes and pedelecs. In a few cities they have been banned for safety reasons. "That situation calls for alternatives", Van Gemeren points out, believing that this means increased business opportunities for his company.
In the market for only six years
It wasn't until 2010 that Micro Mobility opened its own offices in China. In the south of the country they cover the market with their own staff, whilst the north is covered by their distributors. Retail customers range from big chains to very small shops.