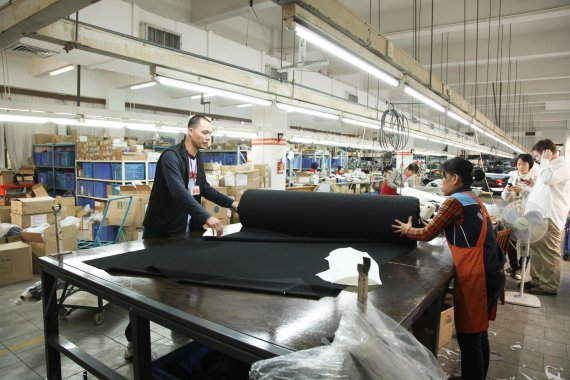 As a result, quality-driven factories are busy looking for ways to escape this trap by transforming their production offer into a supplier brand. One example of this development is KTC.

Its managing director Gerhard Flatz sees the entire supply chain threatened unless their brand partners, retailers and consumers alike understand that something has to change. It's a question of understanding the real value of products and the related labor required to make them.

KTC was founded by two Austrian families who were the first movers in China PR to establish manufacturing plants for sports apparel. The company managed to grow as the exclusive manufacturer of the Austrian brand Mäser first and, later on, for Adidas. This was back in the 1980s. Therefore, the founding families are probably not that concerned about their financial survival.

However, the company's long-time managing director Gerhard Flatz is. The attitude of consumers, retailers and brands has change substantially over the years, he believes. "The original manufacturers are simply scared of their customers, yet these are the brands in the first place." According to Flatz, many of the labels adopt a strange position as far as their ideas on the connection between price and value are concerned.
Apparently, this is not the case for his current customers which have well-sounding names. KTC's portfolio comprises companies like Mammut, bikewear brand Rapha, the designer of sailing garments Musto, Helly Hansen, the high-end snowsports label Mountain Force, Härkila (hunting gear) and Gore Bike & Running. By far the most important customer is Engelbert Strauss, the German marketer of workwear. Engelbert's merchandise is, however, not assembled at KTC's Chinese plants, but the one in Laos. Engelbert Strauss stands for about half of the manufacturer's annual revenues.
Another valuable customer is Blackyak, leader in the South Korean outdoor market. Flatz is excited about their approach, "I have never seen a brand with such a sense for good quality whose offer is funky at the same time." The Koreans are preparing their overseas market entry with a big statement at the upcoming ISPO MUNICH show. Equally important is that the decision makers at Blackyak are always open to the original manufacturer's advice and suggestions. Unfortunately, Flatz says he does not find this kind of attitude with all decision makers in the market.
Where has the feel for sensible pricing gone?

Over the years, Flatz complains, many decision makers on the brand side have become purely figure-driven. The commitment to the product has declined, he believes. This changing attitude has a direct impact on merchandise quality and on the way they view their suppliers. They are considered more as mere executioners of the brand's orders instead of as partners bringing their own experience and expertise to the table. The rest is about money saving and efficiency alone.

This is not good, Flatz says, because it endangers the entire supply chain when it comes to higher-end products. The managing director does not blame the problem on the brands alone, but also on retailers in Europe and elsewhere. They often "buy merchandise without wanting to earn money". Therefore, Flatz' wake-up call is not only aimed at the brands, but at all sections of the supply chain.
All right, let's become a brand ourselves then

"From the consumer's perspective, the brands have lost ground when it comes to awareness, Flatz says." Quality statements by ingredient brands such as Gore-Tex or Primaloft have become more important. "If suppliers to brands are considered by end consumers as more important than the brands themselves, we, too, need a new approach." In short, KTC has begun to develop itself as a supplier brand, too. Well-know examples for such a strategy in the sporting goods industry include ingredient brands like Vibram, Smpatex, YKK and many others.
"We have not got this far yet, but we're working on it." It is not KTC's primary desire to advertize itself with its logo on each item. Instead, they want to spread their name and to make sure that both retailers and consumers alike learn step by step that KTC is means a certain level of quality. This might sound like a modest plan, but it is by no means easy to achieve.

At a sister company, KTC is collecting experience on how to become a brand: UVU is positioned as state-of-the-art high-end performance apparel. This brand works completely independently (besides the fact that KTC is its manufacturer). Both companies are controlled by the same owner families.

In a more unusual step for a production company, KTC does invest in sponsoring of athletes and events. For example, it supports competitions in Arctic regions and other extreme environments. Another initiative is a sailing project called Ant-Arctic-Lab which KTC supports.
More important, to the company is, however, that it is recognized as a critical collaborator in the making of higher-end apparel. Not all brands like this, of course. One which does is the Chinese high-end fashion brand Yang Li which has been shaped by the local designer of the same name. The hang tag attached to the items is subject to a co-branded strategy comprising both KTC and Yang Li.
Using CSR to sell
Last, but by no means least, KTC is pushing one of its most important issues – corporate social responsibility. CSR is important to them – and not only for ethical considerations. "We expect quality from our workers, and they have their demands, too which need to be met." In fact, Flatz' human resources department is permanently in tough competition for skilled and relatively expensive staff with other factories in prosperous southeast China.

In short, Flatz' theory can be summarized like this. Brands cut costs wherever they can, but want to uphold their promise of high quality standards. Factories are far from happy at being caught in a trap between maintaining quality levels, saving money and struggling with rising expenses. At the end of the supply chain is the consumer who wants to pay as little as possible for the merchandise.

As a result, original manufacturers like KTC believe that the way out of the trap is to develop of its own supplier brands and to publicize this around the globe. This is something that will require a tremendous amount of effort, and can only be done with a typical Chinese approach – with patience. The Great Wall was not built in a day either.