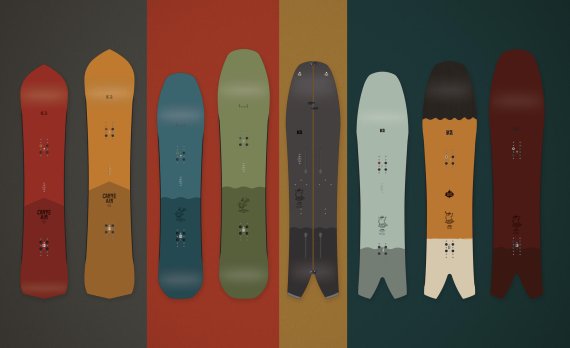 K2 will be introducing the Charger series as part of their ski range, developed for high performance on-piste. With this new ski series, it should be possible to get around easily on both icy slopes and hard ground. Visitors to ISPO MUNICH will also be able to catch a glimpse of the updated women's ski series, Luv Sick.
K2's boot range will include the new B.F.C. collection – "Built for Walking". The ski-shoe designs for both men and women boast "Hands-Free-Entry" technology, with which it is possible to put on the shoes without the need to use hands. In the "aprés-ski walking mode", the upper part of the shoe can be separated from the bottom part of the boot's shell, making walking in the boots much easier.
Swallow-tailed snowboards
As part of their snowboard range, the surf-inspired Enjoyers collection is growing with the introduction of the "Split Bean" – a snowboard with a swallow-tail, which, according to the manufacturer, is a unique product on the market.