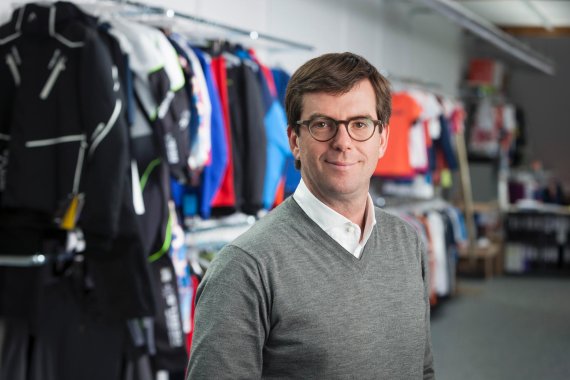 Many were surprised when Roman Stepek departed from his position as CEO at Mountain Force, a top Swiss brand for skiing apparel, about a year ago. He went back to the USA for half a year, and cooked up some new plans.

He's been the new face at Head since July and has the difficult task of bringing the traditional brand's textile collection to the same level as its hardware. The textile expert explains how he's approaching the assignments in an interview with ISPO.com.
ISPO.com: You reported for your new position at Head in July. What about it attracted you?
Roman Stepek: The owner of Head, Johan Eliasch, approached me because he was looking for someone who could take over the apparel. Head has been very well positioned in the hardware sector for quite some time, and now Eliasch wants to get a foothold in apparel with Head, as well. That was never successful in recent years. I believe in the brand's potential, which is why I got myself into it.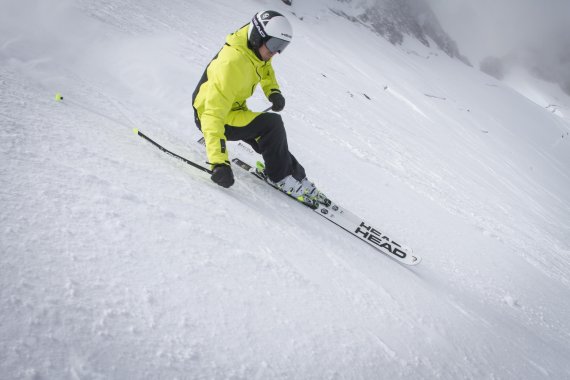 A casual collection for tennis and skiing
So is there to be a visible textile collection by Head in the near future? What is your strategy like?
It's a matter of the segments of tennis and skiing. We play in the top league for hardware in both sports, so we come very clearly from competitive sports and support some of the best athletes in the world. We need to make use of that and translate it onto our apparel. It's clear that nobody needs a new apparel brand, least of all in skiing, but I also see good opportunities for apparel with Head as a strong hardware brand.
What do you want to do differently with the new Head collection?
The entire collection structure and the connection the design of the hardware are going to be completely new. Up until now it was the case that there was no connection between hardware and textiles; now you can generate terrific imagery together with hardware right in retail. That means that the design of the hardware will turn up again somehow in the bags, the shoes, and the collection.
There will be outfits for competitions, for training, and for travel, since all enthusiastic athletes are on the road a lot, and there haven't been products for that until now. This casual collection, which we're calling Essential, will be for tennis and skiing.
"Tennis has died off in specialty stores"
What exactly is that set to look like?
There are t-shirts, tights, tops, and everything is set to go well with the regular collection as per the mix & match principle, so they can be merchandised together. We're producing the collection in Turkey, where we work with substantially faster lead times and therefore can react more quickly.
How does it look in the tennis sector? The topic is no longer very trendy in specialty stores.
Sure, the topic of tennis has died off in specialty stores in recent years. But that doesn't mean that nobody plays tennis anymore. We're selling our collection in Central and Eastern Europe at 55 to 85 percent above retail in tennis clubs and tennis associations, and very successfully at that. We've increased tennis business in double figures in the past few years. Tennis isn't that present anymore, but you can't underestimate it. 2015 and 2016 were, all in all, record years for the brand.
Will there be seasonal collections in tennis?
The club business runs differently than in classic retail. You don't work in such a season-based manner. In total, a collection is up to date for three years – there's a basic collection that runs through, and it is supplemented with new colors every year. The merchandise isn't present in the space at our retail partners, either, but rather is usually sold via catalogs and upon request, for example half a year later, delivered in addition again.
With Yeti, fish, and schnitzel: How the Head athletes are helping with the ski production
Lara Gut drives the electromobile and Aksel Lund Svindal confuses a cold room with the sauna: The new Head spot with the top skiing athletes has long since become a cult video.
Will we also see top athletes who appear in Head at competitions, then?
As I mentioned, we are already market leader in tennis hardware, but that isn't financially feasible in the apparel sector, where completely different numbers are thrown around than in hardware. In the tennis sector, we're orienting ourselves towards young players up to ranking 200, whom we outfit from head to toe.
Back to skiing. The same is happening now in skiing what happened years ago in tennis. Does it make sense to issue a new skiing collection at all?
The market is shrinking and that also makes it clear that we need to oust others with Head. With our expertise in the hardware sector, we're already firmly anchored with the sport for the customer, in any case. I see a big opportunity in that. Our focus is on the markets of Central Europe, the USA, Canada, and Eastern Europe. There is no existing customer network for skiing apparel, so we're a full startup in that sector.
Head Textile Chief: "Skiing is a difficult place to be"
How do you want to establish the collection?
Skiing is a fundamentally difficult place to be. We're going to distribute the collection into two groups, Race and the main collection. With Race, we're predominantly addressing the young target group with brash prints like Camouflage. Race will have a longer lifespan, and so will stay up to date for about two to three years and will also be offered to clubs. There will also be a cooperation with the hardware there, too. The main collection will be a very concentration collection, with a maximum of 40 pieces including accessories. There will be a new fabric concept for that - more robust, sturdier, and with new cuts. 
Other than that I want to concentrate on few fits for pants, that is, instead of five or six there will only be two. Everything else is too complicated, for the customer and the retailer. What's important is that outfit thinking is also revisited here, that is the combinability of all styles and merchandising. As far as the arrangement is concerned: about 25 percent is to be high fashion, we can't economize there and need a wow effect, while 50 percent is to be Core and 25 percent Basic.
In what price range will the new collection play?
In the mid-price range. That means that a ski jacket will cost between 300 and 600 euros, a pair of ski pants between 250 and 450 euros. We've realized that there's a design gap in this middle price range.
In recent years you've developed ski collections at Mountain Force and Kjus Premium, and now you have to pay closer attention to the costs. What do you think of that?
I was spoiled in the past. Now it's much more difficult to develop a piece between 300 and 600 euros that looks good and also bears up. It is interesting that customers have a higher demand for the durability of the pieces. They really do use the collection namely for skiing! Now you have to pay attention to what's productionally feasible, and if every detail is necessary. But that's exactly what I find exciting now.
Right now the long since overdue discussion is being conducted about how one is to react to seasonal delays. In the past, you've said that earlier and earlier deliveries don't make any sense. How do you intend to approach the problem at Head?
The plan hovering in front me in the skiing sector is to only delivery in the period from October 1-15, the Essential collection earlier. I hope that I'm successful. It would be the time to try. Also conceivable would be to offer the city and resort stores different colors so that not everything is discounted already, even in the cities, before the season even begins on the mountain. 
My declared goal is also to stay true to a fabric concept over multiple seasons so that pants from the previous year still go with the jacket from the new collection. I believe that fashion is decelerating.