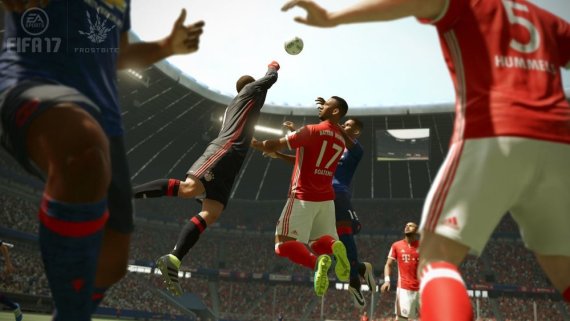 In the soccer simulation FIFA 17 there will already be face scans of the Bayern players, to show the players in an even more realistic way. Additionally, the atmosphere in the Allianz Arena will be improved. 
Bitter: FC Bayern shown in black and yellow
Despite the new contract, the Bayern players will be shown in the colors of Borussia Dortmund, at least until FIFA 18 appears in the fall of 2017. The background is that in FIFA 17 March Reus appears on the cover and the complete series is kept in black and yellow, the colors of BVB. The branding of the game is therefore coordinated to the BVB star for one year and therefore takes on the colors of Borussia.
FIFA 17: Gambling in the Allianz Arena
EA Sports still hopes to establish a connection of the approximately 400 million fans of FC Bayern through this cooperation, the club stated. At least the 75,000 spectators who come to the home games in the Allianz Arena will be reached by the Americans of EA Sports, because games stations will be constructed in the Arena. On Bayern's website, there will also be EA Sports content with immediate effect. 
Read more here: Bayern Captain Philipp Lahm invests in this Start-up
Karl-Heinz Rummenigge, Chairman of FC Bayern Munich, considers gamin to be "a wonderful way to reach millions of fans in the whole world". He says: "We know that the size of the gaming community is continually growing. Therefore, our partnership with EA Sports is a correct and important step into the future."
See more here: These are the shirts that Bayern wear in the real league and in the virtual one.
David Alaba and Javi Martinez play here
Jamie McKinlay, Vice President of Marketing at EA Sports: "With the access to the Bayern professionals and the Allianz Arena, we are able to bring our gamers closer to a soccer game and to the club and to plan exclusive opportunities to connect them with the team, beyond gaming, as fans."
Before Bayern, FC Schalke 04 and VfL Wolfsburg have also invested in e-gaming: Both signed up gamers who now wish to appear for the clubs in the professional FIFA leagues. The final round of the virtual Bundesliga was already shown on Sky in 2016; also, the gaming market in Germany is the largest in Europe.
Find all sports business news and background articles on the topic of soccer here.