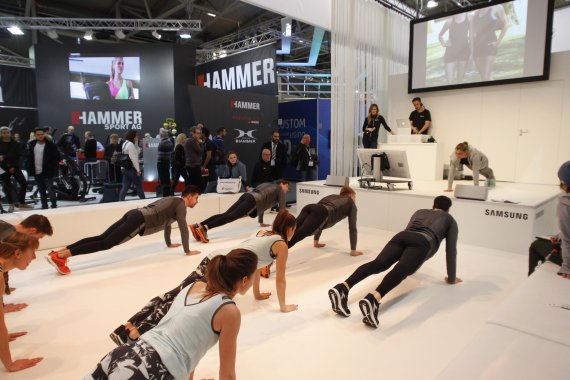 Arms and legs are already shaking, but the exercise is still far from over. Svenja Sörensen motivates the participants of Greenbodycamp with shouts of encouragement. Together, they count down the seconds of the exercise aloud. 
Fitness workout like in the military
"Strengthility coaching" is what they call the training program developed by Marleen Schumacher and Svenja Sörensen, the coaches of Greenbodycamp. It consists of two elements: In addition to strengthening physical resilience, mental strength is another focus. Both play a major role in the military, as the two German officers at Bundeswehr know well. "For us, the military isn't a fad, it's a reality," says Greenbodycamp founder Svenja Sörensen. And the workout created by the two women actually reminds you of a boot camp.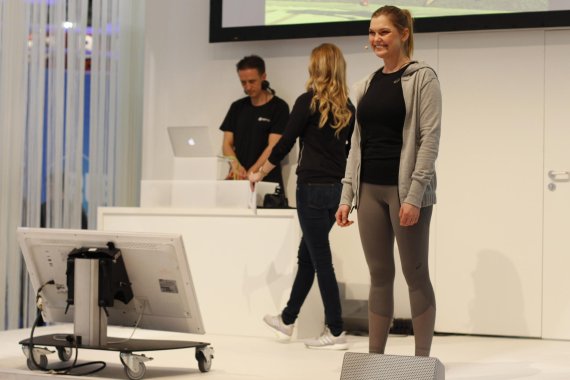 Focus on team solidarity

There are no breaks for taking a breather between the exercises in the workout on the Health&Fitness stage. "The participants are meant to get really out of breath," says Sörensen. Instead, several short, but intense intervals are strung together. The exercises are various: classics, like squats are mixed with military drills, like fast crawls, flat across the floor.

Teambuilding-measure for companies 
Important for the coaches is the group dynamic. Many exercises are done together with a partner or even the entire group. "When you suffer together, you stick it out through the exercises longer," says Sörensen. "Our participants are meant to integrate that endurance and ambition in sports into their everyday and professional lives, as well." 
The two women are booked by various companies as part of teambuilding measures and even company sports, founder Svenja Sörensen tells us. The duo don't just offer classic workouts, but also boot camps al fresco with a tent setup, campfire, and night's watch. 

"Women are a matter close to our hearts"

Their program is meant to appeal to both men and women. Nevertheless, training with and for women is a matter very close to the two coaches' hearts, Sörensen says. In the media, the image of slender women is still conveyed as the ideal of beauty. "We want to get rid of this cliché, and share a different body image: that of the strong, emancipated woman with muscles."