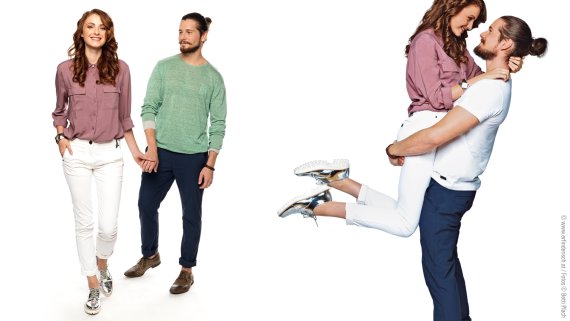 ISPO.com: What makes Breddy's pants stand out in the market?
Claus Bretschneider: Our crossover pants are characterized by their high quality material and their limitless uses. The combination of a functional material typical of the outdoor industry along with trendy cuts has never existed before.
Breddy's are the ideal companion for every day and every situation – going directly from the office to exercising, during leisure activities and even whilst travelling. The crossover pants are climate regulating, ergonomic, water and dirt resistant, as well as fast drying.
Furthermore, we place great importance on sustainability. Therefore, we carry out 100 percent of production in Europe and promote resource-conserving production with innovative and sustainable materials such as castor oil.
Read here: The ISPO BRANDNEW 2017 prize winners
Sustainable outdoor pants for the everyday – how and when did you come up with the idea for your product?
My wife Manuela and I came about this idea when we were hiking in Crete. She was wearing jeans and I was wearing functional pants. During the excursion, I asked her why she was not wearing functional pants. Manuela replied that with their many pockets and zippers, they would look terrible, and she certainly would not have gone into a café after our tour wearing them.
The fashionable component of functional pants captured our interest, and after some research we discovered that there were simply no pants in Europe that combined trendy cuts with functional materials. So our idea was born.
My many years of experience in the clothing industry – more than 30 years in total – and particularly my experience in the production and development of functional clothing, helped enormously when it came to implementation.
100 percent of Breddy's production takes place in Europe
As a start-up, you find yourself faced with many challenges. What were the most important steps and biggest obstacles during the development of the product?
The most important thing in founding a start-up is the idea. After that, of course, came many difficulties and hurdles, but we managed to overcome them all. CI development, finding the right team and setting up production were just three of the challenges we faced.
In order to ensure Breddy's could be 100 percent produced in Europe, we meticulously examined the origin of all the raw materials as well as our partner companies. The mission has been a success – every single detail can be verified as coming from Europe, even as far as the labels.
What were your most important findings and things you learned, from the idea all the way up to the award ceremony at ISPO BRANDNEW?
We established that it was hugely important to make our product idea better known in the world. The award at ISPO BRANDNEW strengthened our conviction in our product. Winning the "athleisure" category, that is, fashionable sportswear suitable for everyday, was an honor and showed us once again that we took the right step in founding Breddy's.
Among all the media hype, it is also important not to lose sight of the further development of the product, the expansion of the distribution network, and further internationalization. Were I ever in the same position of founding a company again, I would do everything exactly the same. We have naturally learned many things in the process.
How did you proceed when setting up your network and on the search for partners and investors?
After very positive feedback from friends and acquaintances, and ever increasing interest, we found it necessary to open a premises in Mödling, through which we have once more broadened our network. Mentors from the Austrian trade association also assisted us with the extension of our network and the expansion of sales.
In addition, we gained contacts through presence at trade fairs and events. As a result, we are concentrating on three strands: Sport (eg. ISPO MUNICH), business and leisure. This has resulted in a variety of contacts for us, and we are working to continue the development of our network internationally.
You have faced many challenges: What advice would you give to others starting a business?
A great idea that you yourself are excited about is the fundamental prerequisite for the success of a product. Your chances of success are even higher if your idea fills a gap in the market. Moreover, know-how in the industry helps to make implementation much easier.
In our opinion, Breddy's success comes down to the fact that our competence in the market has not been questioned. Alongside a good idea and knowledge, founders need the courage to implement the product.
It is important not to give up when faced with challenges, this is where perseverance is required. There will always be difficulties, and the complexity of having your own company should not be underestimated. But with dedication and enthusiasm, you can master the challenge.
It also helps to bear in mind that the luxury of putting your own ideas and values into practice is made possible only through independence.
Your product is innovative, without a doubt. As a start-up, how did you make yourself stand out from the competition?
Corporate social responsibility is a major concern for us, in addition to having an innovative product of the highest quality. We promote sustainability. More precisely, we endeavor to use renewable resources for our materials and packaging.
We use oil from castor plants in the fiber production of our BIOS and BIOS+ product lines . In contrast to cotton, these plants grow in poor soils and therefore do not take away from areas which could be used for food production. Even the packaging is eco-friendly: We never use plastic for shipping or in the shop, only cardboard and paper bags.
Furthermore, we give employees participating in evening classes a chance, by providing the possibility of family friendly, part-time work. As a result we were awarded the Trigos award for "Best CSR Newcomer" in Lower Austria.
What do people absolutely need to know about the market segment in which you are active?
Our crossover pants have opened a new market segment. So far there is no comparable product in Europe. Our innovative ability is therefore tremendous. In any case, we use our leading edge to keep hold of and expand our market dominance in this area.
The goal: Operating globally via ISPO SHANGHAI
Let's take a look back: To what extent have you benefited from ISPO BRANDNEW?
The award brought Breddy's into the international spotlight: It did not just result in media attention, but also intensified prominence and networking within the industry. In general, ISPO offers a fantastic platform for making contacts in many areas.
Along with media contacts as a result of trade fairs, the expansion of the sales network was, of course, a great outcome. Furthermore, through participating in the seminars and workshops that accompanied the awards ceremony, we made contact with the organizers as well as former winners. 
And what is the next step for Breddy's?
We intend to carry on concentrating on our key competence – crossover pants. Here there will be further developments in the details and new collections, incorporating also customer feedback.
Fundamentally we want to make Breddy's more well known internationally. At the moment, we are concentrating on Germany, Austria and Switzerland. A visit to ISPO SHANGHAI is also planned for July 2017. Our international expansion starts there.
More Breddy's branches, new sales partners, online shops and even more satisfied customers. These are our clear goals for the coming year.
ISPO BRANDNEW offers contacts, insights, and new perspectives for your start-up! Get to know the world's biggest competition for founders in the sports business! >>>
Company information:
Name: Breddy's GmbH
Location: Vienna
Website: www.breddys.com/
Founded: 2016
Employees: 6 (May 2017)
Video: ISPO BRANDNEW 2017