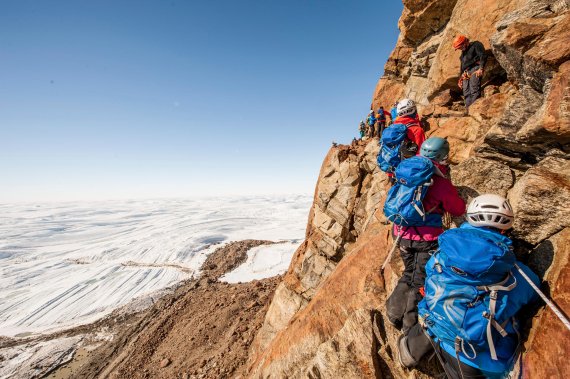 ISPO.com spoke to Pang Tao, Vice President Sales at Wild Rampage, the Chinese distributor of outdoor brands such as Osprey, the U.S. backpack manufacturer.
ISPO.com: How do you see Osprey's positioning in the Chinese market, especially with regard to the competition?

Pang Tao: Osprey arrived in the Chinese market around 13 years ago, and we have managed to build a solid foundation for the brand within the industry. The Chinese outdoor industry has developed over a short time, beginning just over ten years ago. There is great opportunity for those brands focusing on both the cultural and the product quality aspects. In 2013, Osprey began changing its image from a high-end professional backpack brand to a brand that consumers can easily afford – a direct result of the development of both the industry and the country.
The Chinese outdoor industry has just emerged
Pang Tao: When talking about Osprey's performance growth, we should point out that the Chinese outdoor industry has recently emerged and we have just tapped into the purchasing potential of Chinese consumers. It will be a bigger challenge for us to discover further potential growth areas in the long term. Competition is a fascinating topic in China. I strongly believe that when the industry is so young and so small there is no actual rivalry and gradually other "industry friends" enter and share the market with you. This is actually a healthy sign; it means that the market share is getting larger.

Read more here about sports business in china.
Pang Tao: Furthermore, these "industry friends" serve as an inspiration since there are many other brands striving for additional growth just like you. As for the backpack segment, there is no real competition as there are so many potential target markets to explore at this current stage in the industry. According to our surveys of over 200 retailers, and the extensive customer feedback, Osprey is currently the most popular backpack brand in China.
What are your preferred distribution channels? Independent retailers? Brand stores? Department stores? What is your strategy to penetrate the Chinese market?
In China, our main channels are core outdoor specialty outlets: bicycle stores, running stores, etc. E-commerce is also a very important channel we are targeting, including T-Mall and Amazon. We have been planning and expanding the department store outlet channel since the beginning of this year. Osprey will have a presence at several prestigious department stores in major cities over the next six months. China is a very special market with a vast territory and a large population.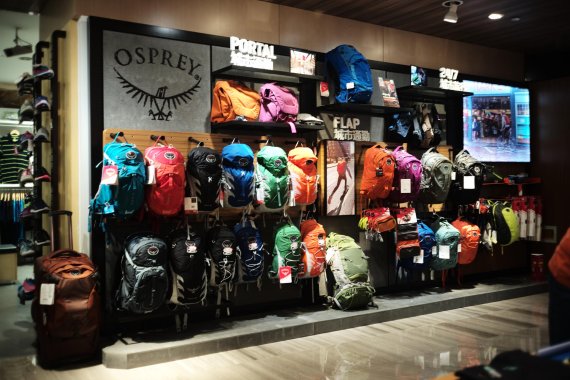 Mission 2016: Moving into department stores
Pang Tao: However, this brings additional serious problems such as economic inequality, logistics and information. These challenges require specific brand management and marketing solutions. We have been busy networking with core outdoor retailers and those who are involved in the cycling and running boom.  We have intensified our communication with these specialty stores. The next step will be to put more effort into improving brand visibility at our target consumers' preferred department stores.
Have you felt any effects from the slowdown of the Chinese economy? What impact would this have on pricing and competition?
Indeed, China's economy has been affected in various ways. For instance, the intensive media coverage of the economic slowdown influences many industries. Furthermore, the exchange rate has recently had a negative impact on imported goods. We are thinking of increasing retail prices and also refining our internal management in order to control the cash flow better.

Economic slowdown first - consumer reaction later
Pang Tao: A comparison between the sales statistics from last year and this year shows that Osprey's sales revenues have been increasing. We think that the economic slowdown is quite macroscopic in certain respects, whilst the direct influence on the public needs more time to take effect. As we see it, demand for travel and sports products is increasing at a very high rate as more people are inclined to go out and experience the outdoors. What we should do now is seize the opportunity, optimize our management, improve cost control, maintain a high level of advertising and promotion, and strengthen the brand's advantages.
How would you describe ISPO SHANGHAI and the results for your business? What is the difference to ISPO BEIJING in winter as far as the retailers/visitors are concerned?
ISPO SHANGHAI gave us the opportunity to get in touch with different communities and clients. ISPO BEIJING is more of a winter show, but actually spring/summer is the best season for outdoor sports. So, ISPO SHANGHAI is a good supplement to ISPO BEIJING. We noticed that the last ISPO SHANGHAI (in 2015) integrated water sports, fitness, outdoor, travel and action sports, which meant the show was more diversified. This was the first time that this was done. We have a saying here in China, 'The first step is always the hardest'. Obviously, ISPO SHANGHAI has done an excellent job so far.