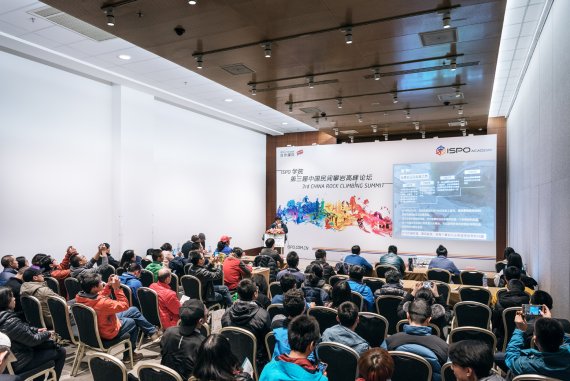 Date: Wednesday, 24th January, 2018
Location: CNCC, Convention Center Conference Room 307A
Price: Free
The China Rock Climbing Summit supplies an overview on the current status and prospects of the rock and ice climbing industry in China. High level rock climbing operators and speakers of national and international organizations are invited to discuss the industry status, the latest business trends, and to share experiences on the promotion of the rock climbing discipline in China. The influence of the Olympic Games and of rock climbing events in general on the industry development will be addressed from different perspectives. Furthermore, this specialized forum will supply useful insights on the successful management of climbing gyms and on the development of the climbing culture by introducing trainings in schools and universities.

Conference Schedule
 
MORNING
09:30-09:35
Welcome Speech
09:35-09:55
Focusing on policy interpretation: Rock Climbing domestic policy interpretation after joining the Olympics
Mr. Guowei Li (Director of Dept. Rock and Ice Climbing of Mountaineering Management of General Administration of sport)
09:55-10:15
Rock the world Climb your dream
Mr Jianghua Zhu (secretary general of climbing association of FUSC)
10:15-10:30
Social and cultural significance of rock climbing from anthropology
Mr. Xu Sun (Lecturer of Chongqing University, Dr of anthropology)
10:30-10:45
Rock Climbing & Development
Mr. Changzhong Liu (Author of the first rock climbing teaching material)
10:45-11:00
The present management situation and industry investigation of climbing gym
Ms. Di Liu (Director of climbing forum for 8A in greater China)
11:00-11:25
Promotion of climbing
Mr. Yongbang Liu/Ms Ting Xiao (Famous Chinese rock climbing couple)
11:25-11:40
Start small - Tomorrow of China's rock climbing
Mr. Zexian Liu (Famous bilingual interpreter)
11:40-11:50
Q&A
11:50-13:00
Lunch Break
AFTERNOON
13:00-13:50
Why climbers should look for a Safety Label on their gear: The role of UIAA in safe climbing
Mr. Amit Chowdhury (Safety Commission President UIAA)
13:50-14:05
Ynagshuo climbing association and Festival of Climbing in Yangshuo
Mr. Lingxuan He (Director of Yangshuo climbing association)
14:05-14:20
Establishment and development of local climbing association
Mr. Yu Zhu (Director of Liupanshui climbing association)
14:20-14:35
Village of climbing characteristics - Mashan's sports poverty alleviation
Mr Li.Deng (Chairman of Beijing GuoaoZhongjian sports)
14:35-15:20
Panel Discussion: What we can do after rock climbing joining Olympic Games
15:20-15:35
Q&A
15:35-15:45
Taking photos and Closing