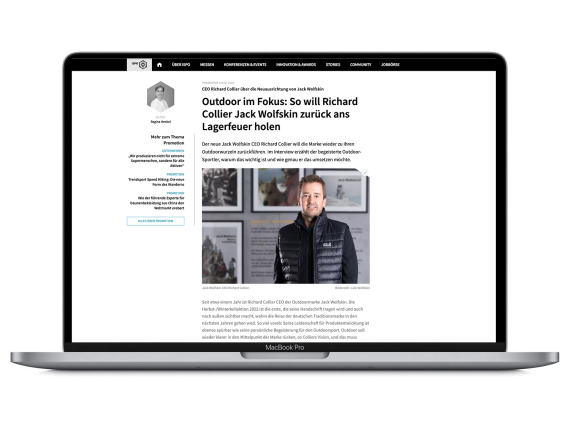 Together with Jack Wolfskin, the ISPO.com editorial team developed an SEO-optimised article. The authentic interview with CEO Richard Collier is approachable and interesting as well as relevant for the readers.
The article was placed visibly as a teaser on the ISPO.com homepage. It was also published in the B2B newsletter, Sport Business Update, which is subscribed to by around 3,000 users. In addition, the article was played out in both German and English to a relevant target group on LinkedIn and achieved over 14,000 impressions. In the article itself, cross-links were made with other Jack Wolfskin articles. Of course, the article also appears on the Jack Wolfskin Brand Channel on ISPO.com.
The interview was talked about on LinkedIn and shared and discussed on many occasions. Jack Wolfskin was delighted to reach out to B2B customers and the community was happy to receive the "update from the heart" and new insights into the future of Jack Wolfskin.
As the first and only mega trend-oriented sports and outdoor magazine, ISPO.com is the perfect platform to reach ambitious consumers and industry professionals alike. With our native advertising offers, your brand reaches decision makers, influencers and buyers alike.
My name is Florian von Stuckrad and I am responsible for the marketing of ISPO.com. Contact me now so we can find the optimal solution for your Brand Channel on ISPO.com together.