ISPO.COM brings all the major news from the global sports industry together with leading articles, reports, interviews, and expert views from opinion leaders. We cover all the facts from an independent point of view. We are closely involved in the industry and yet all our reports are neutral. We introduce our readers to all the latest trends and products.
We provide a first-hand account of news and topics from within the sports industry. Our global network, foreign correspondents, and international branches and subsidiaries allow us to always be right at the heart of the action. 
ISPO.com puts key topics in the spotlight, including trends, special interest topics, and major events like the Olympic Games. Unlike the main stream media, we view such events from a unique sports business perspective, providing exclusive insights from behind the scenes.
We write and publish new content every day in both German and English, catering to an international readership. ISPO.com is closely linked to our social media channels, meaning we can reach our readers at any time of day, communicating closely with them as their steadfast companion.
Experienced editors and renowned guest writers

Skilled sports journalists head up the ISPO.com editorial team and prestigious guest writers make valuable contributions to our content in the form of reports, articles on the latest trends, and columns.

ISPO.COM editorial team

A focus on all relevant target groups

Our cleverly interlinked B2B2C strategy allows us to address businesses, sports business professionals, and also consumer experts all directly on ISPO.com.

We combine the high standard of our editorial work with an effective SEO strategy. Our integration with Google News highlights our position as a leading medium, while guaranteeing our ongoing visibility.

What's more, we distribute tailored content to specific target groups via our newsletter and our strong social media channels. This is another way we ensure that we continue to achieve such high numbers of discerning readers.
Wide reach, precisely measured
We consistently reach a wide audience–even more so when it comes to our trade fair events. ISPO MUNICH 2016 saw ISPO.com receive 439,000 visits and 1.18 million page views. We use a range of tools to precisely measure all relevant key performance indicators (KPIs).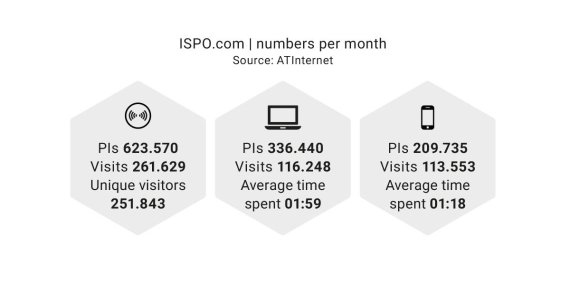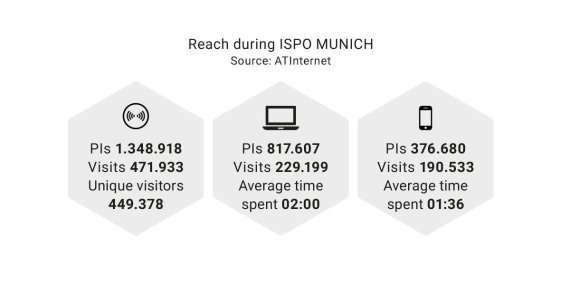 Effective marketing for businesses

Native advertising
Native advertising is much more effective than standard advertising. Our editorial team will take your promotional content and prepare it for you, achieving an exceptional level of quality and authenticity that will mean it fits in seamlessly with the other editorial content on ISPO.com.
Suitable formats include interviews, background reports, and image galleries. We have a varied selection of scalable packages, ranging from a starter module to major campaigns. 
Display advertising
We can offer you all the standard display ad formats on ISPO.COM–from medium rectangle to wallpaper.
Contact