It's the sweetest story in athletics - it's about a couple who, in old age, first found love chasing records, and then found love with each other. Years ago, Heinz Keck from Osnabrück, now 81, began cracking world records in the senior classes with a relay team, as he told the "Neue Osnabrücker Zeitung". Keck and his buddies already bring it to eight world records. On one of those sports trips, he approached Philippa Raschker, a native of Hamburg who lives in the United States. "I had won gold with the 4x400-meter relay - but still was really scared when I asked her for a photo." The courage paid off, since 2011 both are a couple. And they stay active: With 118 world championship medals in senior sports, Raschker easily puts her Heinz in her pocket. And for this to stay that way, the exceptional athlete and her Heinz get regular check ups at their local clinic.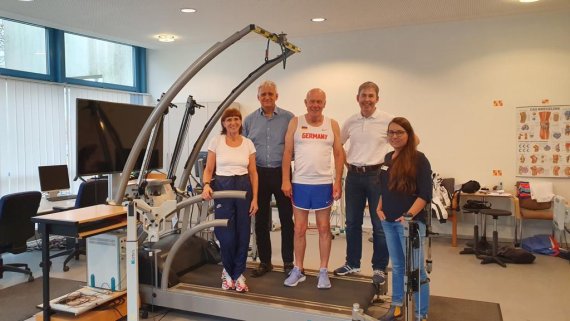 He has it not only in the legs, but also in the brain: Professional cyclist Matej Mohoric from Slovenia likes to tinker with improvements to his bike. His latest idea has now brought him not only victory in the cycling classic Milan-Sanremo. Mohoric may also have brought a revolution to road cycling. The 27-year-old rode with a seatpost that can be lowered, which is otherwise only used by mountain bikers. On the downhill in the race, he picked up speed like no other. "The low position gives considerable time advantages because of the aerodynamics," Mohoric says. He believes his idea will catch on.
She might have given comfort to some of her Ukrainian compatriots and made them proud with this victory. High jumper Yaroslava Mahuchish, at just 20 years old, won the gold medal at the World Indoor Athletics Championships in Belgrade. Mahuchish had to flee the war, driving almost 2,000 kilometers by car from her homeland to Belgrade. "Jumping here was so difficult psychologically because my heart remains in my country." She even painted her fingernails in the national colors of yellow and blue.
They have so far played only in stadiums so small that only those who know the place already could find. But now the women of FC Bayern Munich were finally allowed to play in the Allianz Arena, which is otherwise reserved for men. Champions League against Paris St. Germain - what sounds like great soccer fare, is exactly this in women's soccer as well. 13,000 spectators came, which was more than hoped for. Even if the game against the women from Paris was lost narrowly with 1:2, the Bayern footballers have made a big step forward.
What a spectacle: The shot-putters are allowed to compete at the German Championships at the end of June in front of the Brandenburg Gate. We hear the Berliners already groan, whether the Flitzpiepen (Berlin slang for "fool") will keep the Quadriga intact. Dear Berlin people with your quite special charm: Nothing bad will happen, guaranteed. Or as it Marco Buxmann of the German Athletics Association formally said. "The fact that we are allowed to be guests with the shot put in front of a historic backdrop the Brandenburg Gate is a special honor for us." On top of that, admission is free.
This is America! The mother a single parent, the son growing up under difficult conditions becomes an eyewitness to murders and drug deals. And what does the lad do? He is preparing to become the greatest basketball player in sports history forever: LeBron James is now number 2 in the NBA's perpetual points list. He has now surpassed Karl Malone with around 37,000 points in 1363 games. If the 37-year-old continues to shoot his baskets as reliably as before, he will displace Kareem Abdul-Jabbar in a year's time. Abdul-Jabbar scored 38,387 points. But James is averaging 27.1 points per game. Still about 50 games, then James has climbed the throne.
Her tennis career was a dream - and still Ashleigh Barty has other dreams: What an admirable inner freedom. The Australian, who is only 25 years old and could win the Australian Open just a few weeks ago, ended her great tennis career completely unexpectedly. She did so "to pursue other dreams." Barty had taken a two-year break once before as a young player. At the time, she needed time off mentally. Now she deliberately stepped down at the peak, as she says herself. The turning point was her victory at the Wimbledon tournament last year. It was then, she says, that she achieved that one big goal and planned her retirement, which came as a surprise to everyone else. "I'm really happy. For me, this is my success."