What does a world-class surfer in "full mama mode" do when called upon? Get back on the board and show everyone, of course. Bethany Hamilton, who became a mother for the third time just a year ago, was only there at the start of the World Cup season in Hawaii because a starter was out due to Corona. "There's so much positive energy on the beach here, everyone showing their love," Hamilton enthused. The 31-year-old, who has been one-armed since a shark attack as a young girl, returned the love to the fans - she survived the first round without much preparation.
The king is dead, long live the king, football fans around the world would have shouted if everything had gone as normal. After the voluntary retirement of NFL legend Tom Brady (after 22 years and seven Super Bowl titles), the red carpet seemed to be rolled out for heir apparent Patrick Mahomes as the superstar of the next few years. But quarterback Mahomes and his Kansas City Chiefs missed the Super Bowl (finale on Feb. 14) because Evan McPherson of the Cincinatti Bengals, only 22 years old, scored the decisive points from 31 yards away. The king is dead? Long live the surprise!
Of course, the mother country of soccer is a big step ahead here: In England, there will be extended maternity leave professional female soccer players will have extended maternity leave. Players will then be entitled to 14 weeks' maternity leave with full pay and bonuses, after which they can still receive the statutory rate. Even before that, English women's soccer players had negotiated a convergence of their salaries with those of men. And in Germany? Goalkeeper Almuth Schult is the only mother who plays for Wolfsburg. Last fall, when Schult delicately brought up the idea of soccer clubs building daycare centers, everyone turned a deaf ear... We'd like to see good news for Germany soon, too!
"These men crochet flip-flops" - headlined Impulse in September 2015. And now things are going better than ever: Rosenheim-based Matthias Drexlmaier and Maximilian Hundhammer, founders and managing directors of Doghammer, will be working with Schwan-Stabilo in the future. This is an important milestone for the further expansion of the young company, which produces toe separators (flip-flops) as well as vegan hiking boots. Hundhammer: "We have reached a point where we need a strong partner. We have found this in the family-owned company Schwan-Stabilo."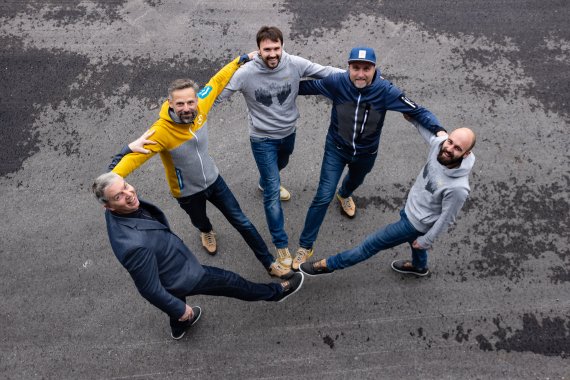 When he began his professional career, Gerhard Schröder (SPD) was still Chancellor and the Germans paid in deutschmarks: Rafael Nadal really is the perennial champion of men's tennis. His tenacity and consistency are probably also what made him the record holder in Grand Slam victories. 21 times winner Nadal - in Spain he is now the "new God". But what did the 35-year-old say after his final victory at the Australian Open? "I'm super, super tired. I can't even celebrate." That's sympathetically worldly!
In Germany - almost - no one knows him, but in Sweden he is king. Johannes Lukas, a native of Bavaria, just extended his contract as the Swedes' biathlon coach until the 2026 Olympics. No wonder the Scandinavians adore the sports scientist. Under the 28-year-old, who started as an intern, the tradition-steeped team won a medal record at the recent world championships. For him, the team is a second family, says Lukas. That sounds like a great bond and a long collaboration.
He won the Tour de France in 2019 - but Egan Bernal celebrated his biggest victory in the hospital in Bogotá. Overjoyed to recover from his serious training accident (broken spine, broken thigh, open fracture of the kneecap). the 25-year-old Colombian first thanked those around him: "After having a 95 percent chance of becoming a paraplegic and almost losing my life doing what I love most, today I want to thank God, the clinic, all its specialists who did the impossible, my family and all of you." We send best recovery wishes!